Halloween Snacks That Are So Good, It's Scary
It's no secret that Halloween is one of the best holidays of all time. I mean,hello—you get to stay out late with your friends, carve pumpkins, dress up in your favorite costume, and, best of all, snag a ton of free candy from your neighbors. But wait—there's more! Be the hit of any Halloween party or scary-movie night with your friends with these spooky, delish vegan treats:
Mummy Dogs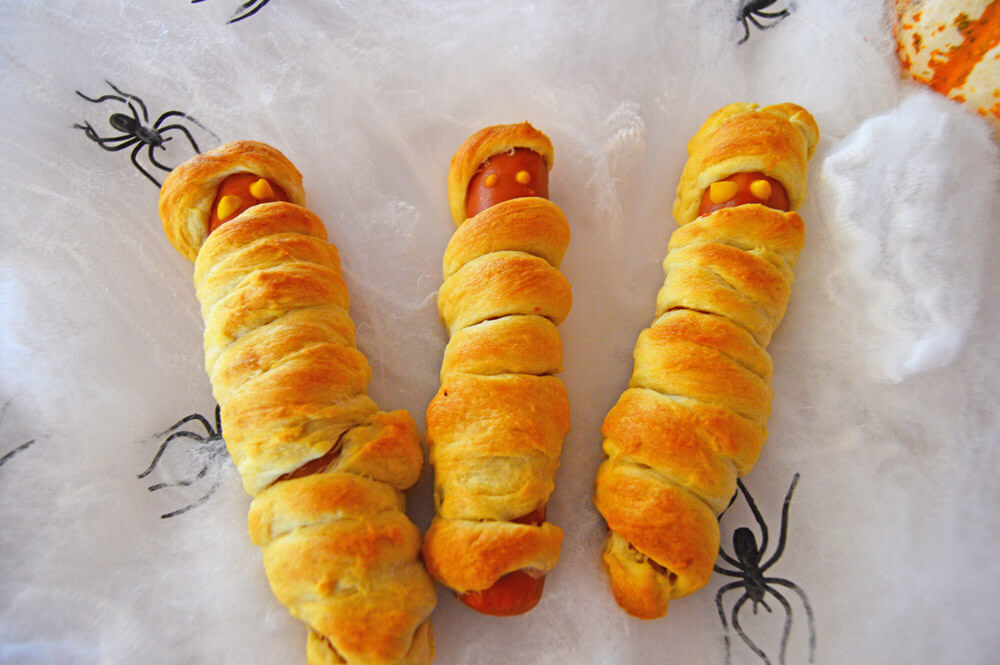 Prep time: 5 mins
Cook time: 10–12 mins
Servings: 8
1 can vegan crescent rolls
1 pkg. veggie dogs (try Smart Dogs)
Condiment of your choice, for decorating (we used mustard)
Roll out the crescent roll dough and cut into thin strips. Wrap the strips around the veggie dogs until each veggie dog is almost entirely covered. Be sure to leave room for "eyes" between two of the strips.
Bake according to the directions on the crescent roll package or until the dough is golden brown.
Remove from the oven and use the condiment of your choice to add "eyes" to each "mummy." Enjoy!
Ghostly Chips and Guacamole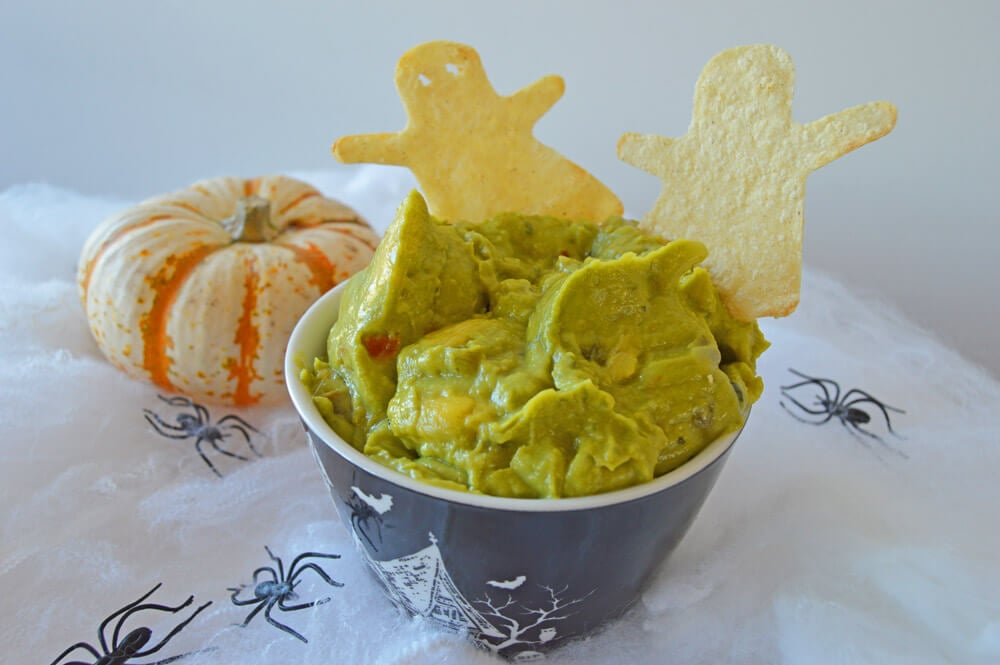 Prep time: 1 min
Cook time: 8–10 mins
Servings: 2
Oil spray
10 white corn tortillas
Salt, to taste
2 ripe avocados, pitted, peeled, and mashed
1 small onion, finely chopped
1 clove garlic, minced, or 1/2 tsp. garlic powder
1/4 cup chopped, fresh cilantro leaves
1 tomato, chopped
Pepper, to taste
Preheat the oven to 400°F.
Stack 3 to 4 tortillas at a time and cut with a ghost-shaped (or other Halloween-themed) cookie cutter. (We were able to get two shapes out of each tortilla.)
Place on a cookie sheet, lightly spray the tops with oil, and sprinkle with salt.
If using ghost shapes, poke holes in the tortillas for the "eyes" using the tip of a knife.
Bake for 6 to 8 minutes, then flip and bake for another 1 to 2 minutes.
In a small bowl, mix together the avocado, onion, garlic, cilantro, and tomato. Add salt and pepper to taste.
Voilà! Halloween-friendly chips and dip, ready to eat fresh out of the oven.
Spooky Spider Cupcakes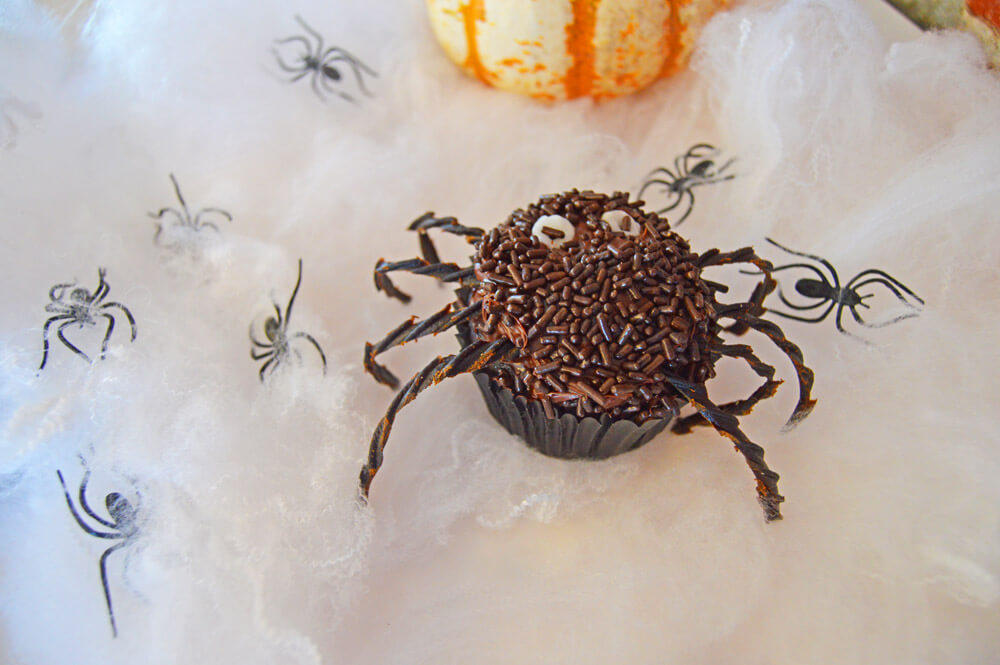 Prep time: 20 mins
Cook time: 18–21 mins
Servings: 12
1 pkg. accidentally vegan store-bought cake mix (we ♥ Duncan Hines!)
3/4 cup applesauce
1/3 cup vegetable oil
1 pkg. black licorice
1 can accidentally vegan store-bought frosting (yep, we used Duncan Hines again)
Sprinkles, for decorating
Nondairy chocolate chips, for decorating
Preheat the oven to 350ºF. Place cupcake liners in your favorite 12-cup muffin pan.
In a large bowl, stir together the cake mix, applesauce, and oil, making sure there are no lumps. Pour the mixture into the cupcake liners, dividing evenly among the 12 cups. Bake for 18 to 21 minutes. Remove from the oven and allow to cool.
Cut each licorice piece in half, then cut lengthwise into thinner strips. These will be the "legs" for your spider cupcakes. You will need 8 strips per cupcake.
Decorate the cupcakes with the frosting and sprinkles. Top each with 2 chocolate chip "eyes" and add the licorice "legs." Enjoy!
So, whether you're getting ready for a Halloween party or just in the mood for a snack, these treats are delicious and super-easy to make (with your parents' help). Big bonus: They don't involve any animal suffering. 🎃
One of the best parts about going vegan (aside from saving over 100 animals each year just by not eating them, of course!) is that you can still enjoy your favorite sweet treats simply by replacing animal ingredients (like cow's milk, butter, and eggs) with vegan alternatives (like soy or almond milk, nondairy butter, and applesauce).