9 Vegan Treats All Kids Need in Their Lives
Do you love to cook? Or do you leave all that up to Mom and Dad? Well, either way, we've rounded up a list of ridiculously easy, kid-approved recipes that ANYONE can handle. So get ready to show off your chef skills and enjoy some yummy vegan treats!
1. Pumpkin Spice Cupcakes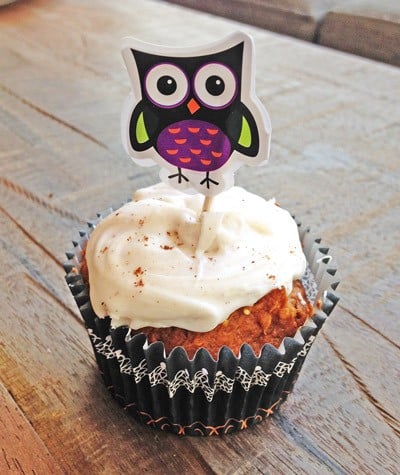 Prep time: 5 mins
Cook time: 20 mins
Servings: 24 cupcakes
Ingredients:
1 box vegan spice cake mix (try Duncan Hines brand)
1 can pumpkin purée
1 16-oz. container vegan vanilla frosting (try Duncan Hines brand)
 Directions:
Preheat the oven to 350ºF and line two cupcake pans with cupcake liners.
Combine the spice cake mix and pumpkin purée in a small mixing bowl. (Do not add water, eggs, oil, or any other ingredients the cake mix instructions may call for.)
Fill the cupcake liners two-thirds full with the batter and bake for about 20 minutes.
Once cooled, frost the cupcake tops and enjoy!
2. Chocolate–Peanut Butter–Banana Bombs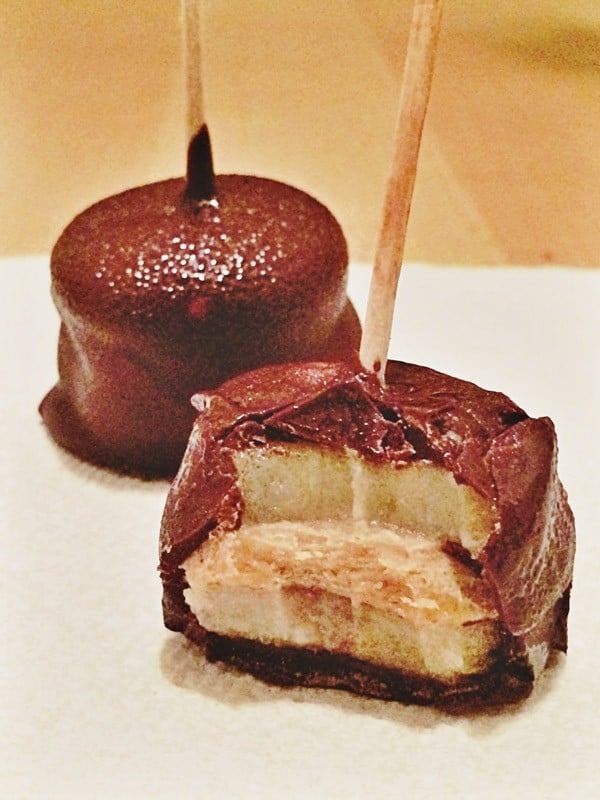 Prep time: 10 mins
Cook time: 2 to 3 hours
Servings: 3
Ingredients:
1 banana
1/4 cup peanut butter, at room temperature
1 cup chocolate chips
 Directions:
Slice the banana into 1/4-inch slices. Add a dollop of peanut butter to one banana slice, then top with another slice. Secure with a toothpick, then repeat with the remaining banana slices.
Freeze the banana bites until firm (at least 1 hour).
Pour the chocolate chips into a mug and cook in the microwave for 10 seconds, then stir. Repeat until the chocolate is melted.
Remove the banana bites from the freezer and dip each in the melted chocolate to coat.
Freeze again until solid (at least 1 hour). Eat!
3. Veggie Cutie Fruity Sushi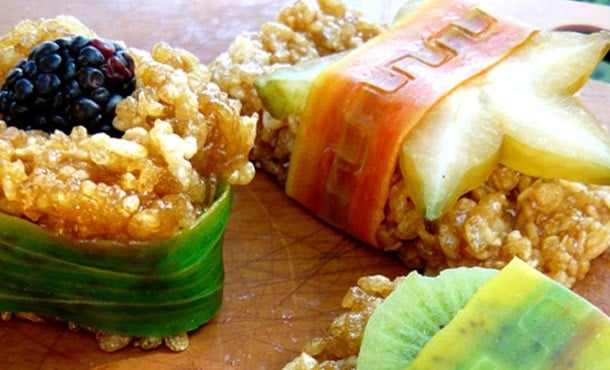 Prep time: 1 hour
Cook time: 5 mins
Servings: 10 to 12
Ingredients:
3 Tbsp. vegan margarine
1 10-oz. tub Suzanne's Ricemellow Crème or accidentally vegan marshmallow ice cream topping
1 tsp. vanilla extract1 tsp. agave nectar (optional)
6 cups Rice Krispies cereal
1/2 box Fruit by the Foot
Fresh fruit, for garnish
 Directions:
Melt the vegan margarine in a pan, then add the vegan marshmallow crème, vanilla extract, and agave nectar and stir until well combined.
Reduce the heat to low and gradually add the Rice Krispies, stirring frequently. Once gooey, place the mixture in a greased pan and allow to cool.
Cut into rectangles, then wrap in sections of Fruit by the Foot and top with fresh fruit—or simply go wild and wrap it all up with the fruit inside.
4. No-Bake Cookie 'Cheesecake' Cupcakes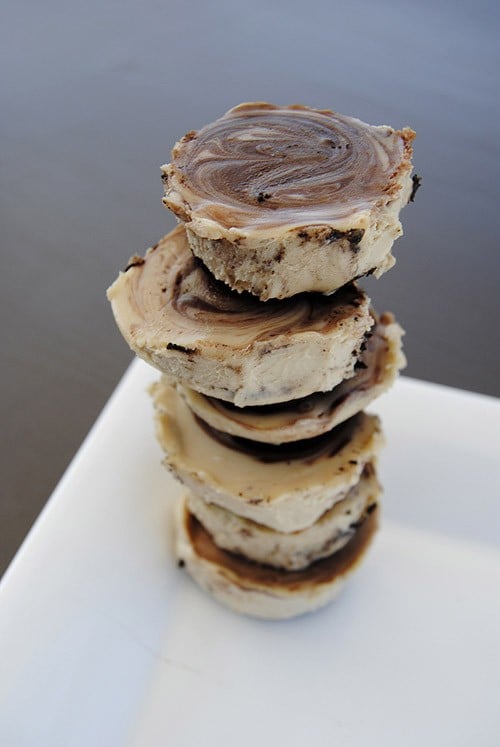 Prep time: 10 mins
Cook time: 2 hours
Servings: 12 cupcakes
Ingredients:
1 1/2 cups cashews, soaked overnight, rinsed, and drained
Juice of one lemon
1/3 cup coconut oil
1/2 cup nondairy milk (coconut milk works best!)
1/2 cup agave nectar or maple syrup
1/3 cup peanut butter
12 sandwich cookies (like Oreos!)
 Directions:
Combine the cashews, lemon juice, coconut oil, nondairy milk, agave nectar, and peanut butter together in a blender and blend until smooth.
Line a muffin pan with cupcake liners and place a sandwich cookie in each.
Pour the cashew mixture into the cupcake liners, distributing evenly.
Freeze for at least 2 hours before serving.
Note: These cupcakes should be kept in the freezer and thawed about 10 minutes before serving.
5. Chocolate–Peanut Butter Cups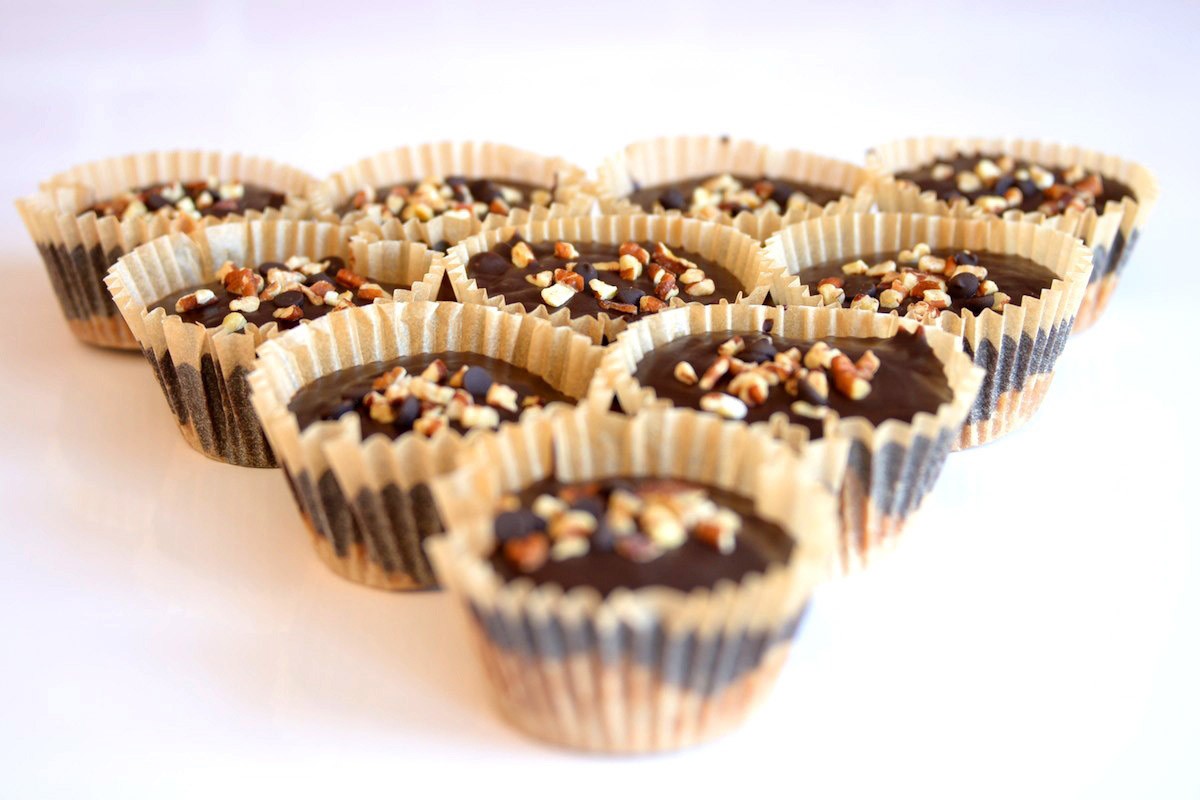 Prep time: 10 mins
Cook time: 20 mins
Servings: 12 peanut butter cups
Ingredients:
1/2 cup vegan margarine (try Earth Balance or Smart Balance Lite)
3/4 cup peanut butter (you can also use almond, cashew, pecan, or sunflower butter)
3/4 cup crushed vegan graham crackers
1/4 cup agave nectar (or maple syrup)
1 cup vegan chocolate chips (try Trader Joe's brand)
1/2 cup nondairy milk (soy, rice, almond, hemp, coconut, etc.)
1/2 cup crushed peanuts
 Directions:
Fill a 12-cup muffin tin with cupcake liners and set aside.
Combine the vegan margarine, peanut butter, crushed graham crackers, and agave nectar in a saucepan and cook over medium heat until the vegan margarine melts. Make sure that the mixture doesn't stick to the pan or burn. Remove from the heat and spoon evenly into the cupcake liners.
In a separate saucepan, combine the vegan chocolate chips and nondairy milk and heat over low heat, stirring frequently. Remove from the heat as soon as the chocolate begins to melt to keep the mixture from sticking to the pan. Spoon over the peanut butter mixture in each cupcake liner, then garnish with the crushed peanuts.
6. Strawberry 'Cheesecake' Bites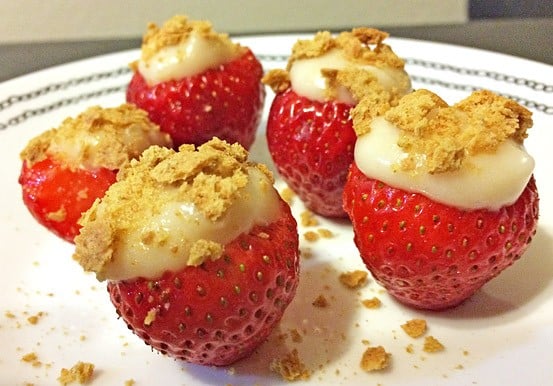 Prep time: 5 mins
Cook time: 15 mins
Servings: 15 bites
Ingredients:
1 lb. strawberries, destemmed
8 oz. vegan cream cheese (try Daiya or Tofutti brands!)
1 1/2 cups powdered sugar
1 tsp. vanilla extract
1/4 cup crushed animal crackers
Directions:
Carve a hollow spot in each strawberry for the "cheesecake." Then, cut off a small portion of each strawberry tip so that the strawberries will stand upright.
Combine the vegan cream cheese, powdered sugar, and vanilla extract and beat with an electric mixer until nice and fluffy.
Pour the vegan cream cheese mixture into a pastry bag* and fill each strawberry.
Place the animal crackers in a sandwich bag and crush gently into crumbs.
Sprinkle the crumbs on top of the strawberries—and voilà!
For a DIY pastry bag, cut a hole in the bottom corner of a sandwich bag and gently pipe out the filling. If you don't want to hollow out the strawberries, turn the "cheesecake" mixture into a creamy dip. Just submerge each strawberry in the "cheesecake" mixture, roll in the animal cracker crumbs, and enjoy!
7. Vegan Strawberry Froyo Frozen Pops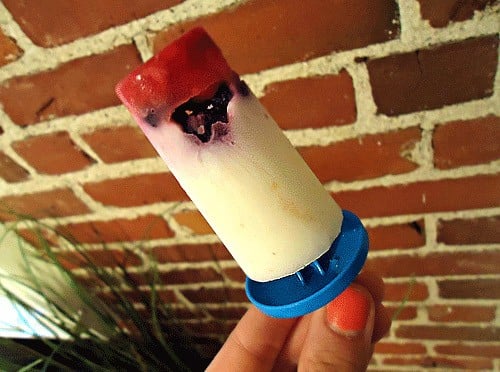 Prep time: 5 mins
Servings: 8 frozen pops
Ingredients:
1 cup diced strawberries
2 cups vegan yogurt (try WholeSoy's unsweetened plain yogurt)
2 Tbsp. vegan chocolate chips (optional)
2 Tbsp. sliced almonds (optional)
Directions:
Combine the strawberries and vegan yogurt in a bowl. Add the chocolate chips and almonds and stir.
Pour into Popsicle molds and freeze. (If you don't have Popsicle molds, you can use ice cube trays.)Enjoy!
8. Vegan Peanut Butter Ice Cream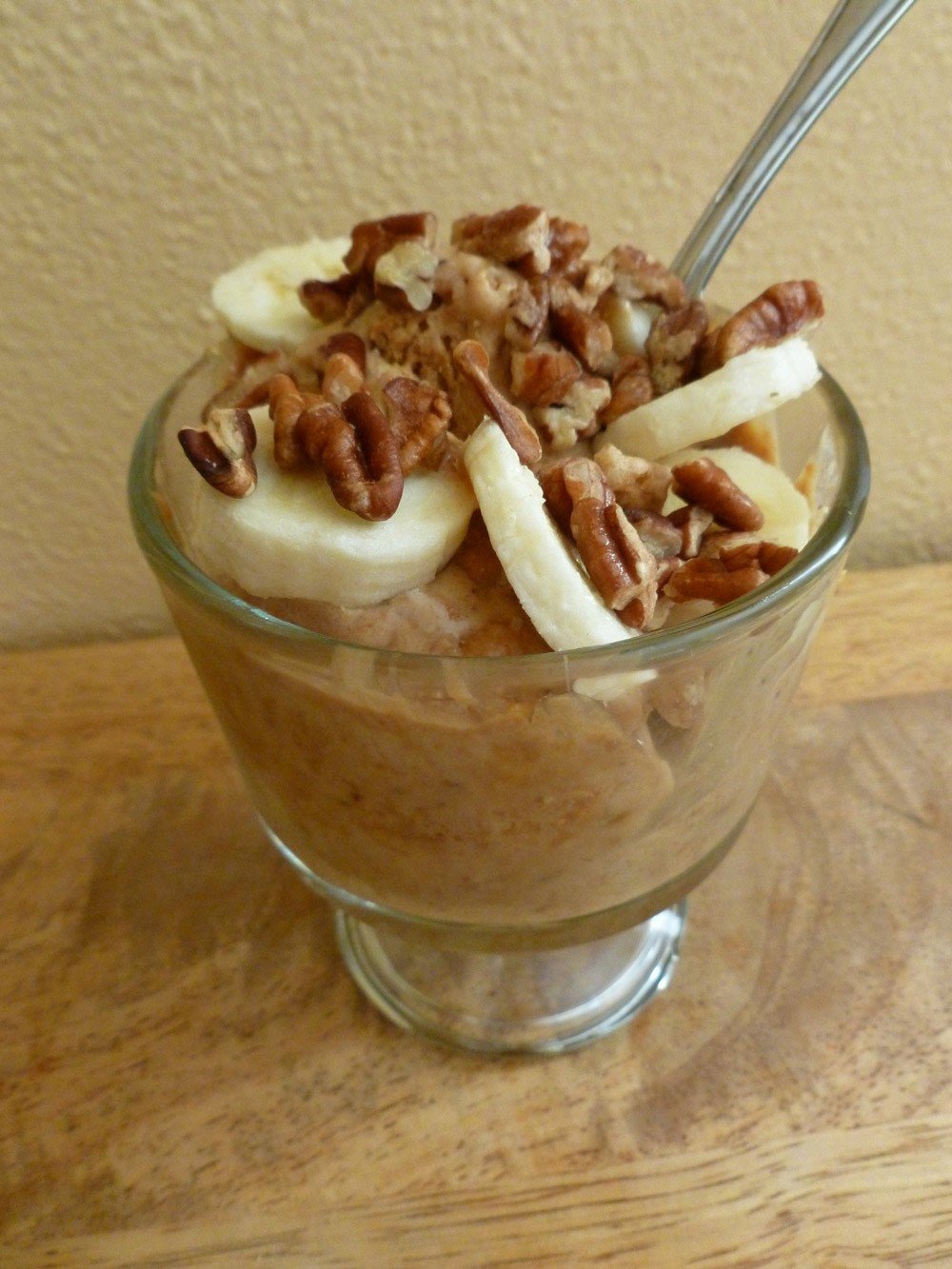 Prep time: 5 mins
Cook time: 20 mins
Servings: 4 to 6
Ingredients:
2 cups almond milk
1/2 cup peanut butter
1/4 cup sugar
1 Tbsp. vanilla extract
Chopped nuts, for garnish
Sliced bananas, for garnish
Directions:
Combine the almond milk, peanut butter, sugar and vanilla in a saucepan and simmer until the peanut butter has liquefied.
Allow to cool, then follow the instructions on your ice cream maker.
Top with chopped nuts and sliced bananas.
9. Easter Cookies