We Support the Birth Defect Research for Children Charity!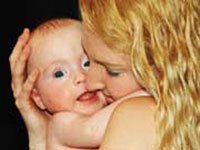 Do you want to help prevent birth defects but not know which charity to support? Let us help.
Birth defects are now the leading cause of infant mortality in the U.S., with the percentage of infant deaths resulting from birth defects rising from 7 percent in 1919 to 19.7 percent in 1999. The Pew Environmental Health Commission estimates that more than 60 percent of birth defects can be prevented if we identify their causes. Creating a national birth-defect registry linking birth defects to medication, alcohol, smoking, chemicals, heavy metals, exposure to radiation, and other environmental toxins is the most powerful line of attack in the fight against birth defects.
Birth Defect Research for Children, Inc., (BDRC) is a wonderful nonprofit organization doing exactly this. BDRC sponsors the National Birth Defect Registry, a research project that investigates and tabulates associations between birth defects and environmental and lifestyle factors.
Without harming any animals—as some other birth-defect charities do—Birth Defect Research for Children focuses on preventing birth defects while providing information and support for parents struggling to learn how best to care for their children with birth defects.
To find out more about BDRC and how you can help this heroic, lifesaving charity, visit BDRC online at www.birthdefects.org or write:
Birth Defect Research for Children
976 Lake Baldwin Lane, Ste. 104
Orlando, FL 32814
Helping Without Hurting
When Betty and Mike Mekdeci's son was born with birth defects in 1975, the concerned couple was shocked to discover that the cause of his ailment may have been Bendectin, a medication prescribed to Betty during her pregnancy to relieve nausea and vomiting. Through seven years of researching the drug, they learned that many toxic exposures had not been adequately recognized as potential causes of birth defects, nor did parents have adequate access to information on risk factors associated with birth defects. In 1982, after they helped remove Bendectin from the world market, the Mekdecis founded the Association of Birth Defect Children (now called Birth Defect Research for Children) to "provide birth defect information to parents and to investigate the causes of birth defects that could have been prevented."
Inspired by their story and their choice not to rely on archaic animal tests, PETA honored Birth Defect Research for Children with our first-ever Life-Saver Charity Award for its work helping humans without hurting animals. Betty Mekdeci, now executive director of the charity, wrote to us, saying, "On behalf of the staff and volunteers at Birth Defect Research for Children, thank you for awarding our organization PETA's Life Saver Charity Award. This was a wonderful honor and we will be pleased to display your award in our offices. (I loved the bunny!)" She also went on to say, "I believe that our National Birth Defect Registry proves that you do not have to sacrifice animals to prevent birth defects."
Learn more about Birth Defect Research for Children.
Search for more cruelty-free charities.