Get Vegetarian Food in Schools Across the Country!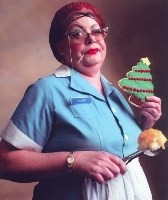 I remember becoming a vegetarian at the age of 14 and how on the days that I didn't bring a packed lunch I would wonder what I would find to eat at school that day. Sometimes that meant that I would get a juice, a bag of pretzels, and an apple from the cafeteria. Other days it would mean asking the assembly-line–style cafeteria workers to please leave the heaping mound of ground beef off my taco salad and just load it with veggies and beans instead—which, fortunately, they were willing to do!
I always wished I could have had more veggie options, though. Fortunately, in the new year, the U.S. Department of Agriculture (USDA) will be reviewing the Child Nutrition Act, which, among other things, covers the National School Lunch Program and School Breakfast Program. The USDA is accepting comments on how to revise the program until October 15, so please write soon to ask for more vegetarian options for your child's school! To send a message, either use this form, or send an e-mail to [email protected].'
Here are a few things to keep in mind when writing your e-mail:
• Be polite. Being negative about the lack of vegetarian options at your child's school won't help.
• Explain that you care about your child's health, the environment, and animals, and vegetarian food supports all those things. Not to mention that everyone deserves to be accommodated regarding their ethical, religious, and dietary preferences.
• List some options of what you'd like to see added. Bean-and-rice burritos, veggie burgers, veggie dogs, veggie chili, and pasta with marinara sauce and veggies are all a good start.
• Ask for soy milk as an alternative to dairy milk. It's great for vegans, for those who are lactose-intolerant, and for soy enthusiasts!
• Be sure to say thanks for taking your thoughts into consideration. It is so important to write to USDA officials and ask them to include vegetarian and vegan meals in the National School Lunch Program.
Change happens when people speak up (or, in this case, write in)—the Child Nutrition Act is only reviewed every four years, so let's do something now!