This Holiday's Animal-Friendly Flicks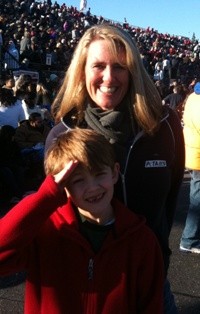 The following article was written by Tracy Reiman, PETA's executive vice president and the proud mom of 8-year-old Jack.
After the presents are opened, the goodies are consumed, and the sugar high has kids bouncing off the walls, many families will head to the multiplex to settle down for a movie. My son, Jack, has his heart set on seeing The Adventures of Tintin, which is a movie I know our whole family will enjoy.
And you know, it's easy to squeeze in an ethics lesson even in the middle of the holidays. A simple yet meaningful way to get children involved in helping and appreciating animals is by skipping movies that use live animals as actors—like We Bought a Zoo—and buying tickets to animal- and family-friendly flicks instead.
Most kids would be upset to learn that animals used in film productions suffer on and off the set. Young animals are torn away from their mothers as infants and subjected to abusive training, and they're kept in filthy, cramped cages. Life for these little ones will never be the same. Instead of being nurtured and protected, primates, tigers, bears, and lions are subjected to beatings and food deprivation and are shocked with electric prods in order to get them to obey and perform tricks on command.
"[T]o continue to use wild animals for entertainment denigrates a child's development of humane attitudes because it does not convey an understanding of the needs of another species. If we were to treat wild animals with dignity and respect their true natures, we would be teaching empathy and compassion for all living beings to our children …."

—Karen Schaefer, Ph.D., Director, Counseling Center, New Mexico State University
Parents, don't be reassured by the "no animals were harmed" disclaimer. The presence of American Humane Association (AHA) representatives on the set is no guarantee that animals are safe. The AHA doesn't oversee the off-site training of animals—where most of the abuse occurs—or animals' living and transport conditions. Trainers were caught on tape hitting elephants commonly used in movies. A whistleblower who worked on the set of Speed Racer allegedly saw a young chimpanzee beaten behind the scenes. Even when monitors are on the set, animals have been hurt and killed, such as the two horses who died during the filming of Flicka. The AHA took the position that the horses' deaths were "unpreventable accidents." The good news is that there are plenty of entertaining movies that don't exploit animals, and please note that We Bought a Zoo—for which the director forced lions, bears, and other wild animals to perform—is not among them.
Transcending generations, The Muppets is a movie that both parents and children can identify with and enjoy. Kids of all ages will laugh out loud at performing penguins in Happy Feet Two. And there isn't a toddler around who won't be delighted by the animated antics of Alvin, Simon, and Theodore as they survive on a Polynesian island in Alvin and the Chipmunks: Chipwrecked.
All parents know that the lessons that we unintentionally teach children are as important as those that we make an effort to impart. Taking children to movies in which live animals are used and abused for entertainment is a lesson to avoid indeed.