Kids Prefer a Variety of Colorful Foods
A study that was published in the January 2012 issue of Acta Paediatrica reveals that children prefer plates with a variety of foods—seven items and six different colors, to be exact.
While reading about this "discovery," I was automatically brought back to a photo that I recently found on Pinterest. A 2-year-old's birthday party featured "toddler buffet" trays, which showcased a variety of finger foods perfect for tiny hands, using—gasp—ice-cube trays. I immediately fell in love with the idea and was jumping at the chance to use it myself.
Since the results of the study suggest that we should be offering our children a variety of foods at every meal, I thought it was time to whip out the "toddler buffet" trays and try it for myself.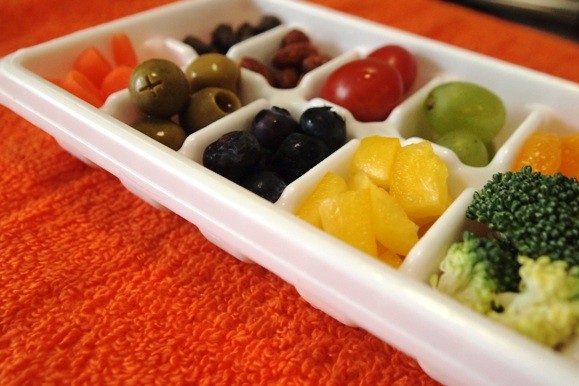 Vegan meals that include fruits, veggies, nuts, and beans offer an abundance of color and choices for picky eaters. With dozens of potential combinations, we have a virtually limitless list of possibilities. So the next time you're looking to expand your child's palate, try out the "toddler buffet" tray and incorporate some new foods alongside old favorites.
What tips do you have for introducing new foods into your child's meals? We'd love to hear, so share with us in the comments section below!