Make Protests and Demos a Family Affair!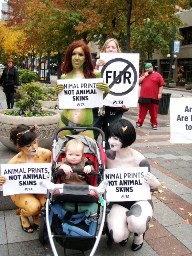 The following article was written by animal rights activist, vegan mother, and former PETA staffer Lauren Rainbow.
Life can be hectic as a parent of a 1-year-old. The house is never clean, meals are attempts to keep bite-size pieces of food from being thrown all over the dog (the dog loves this part), and free time has become a mythological phenomenon that doesn't exist in my world anymore. Parenthood is a rewarding and interesting experience, but, let's face it, it can be challenging to manage all the schedules and demands of each family member.
One of my initial concerns with becoming a parent was that I would no longer have the time or energy to stay active in the animal rights scene. Luckily, I was wrong! Whenever Danny and I can make it out to a demonstration, we do. Not only does it keep me connected with all the wonderful activists here in Seattle, I also think it's important for families to have a presence in animal rights. It is valuable for passersby to see that people who have children can be dedicated to alleviating animal suffering.
Sometimes I see people react to protesters in a negative way, as if they see no commonalities between themselves and those who are holding the signs. But when people see Danny and me at a demonstration, they tend to smile more and are less intimidated. There's something about a mother with a small child that many people can relate to and feel at ease with. And, let's face it, who can resist that face? Having Danny with me at protests sometimes opens the door to a conversation, and it always make me more approachable.
I would encourage everyone, including parents, to speak up for animals whenever possible. Taking a 1-year-old to a protest is much easier than many people think, and it has become something that I look forward to doing with Danny. I have constructed a list of things to do to make this experience as smooth and tantrum-free as possible.
Be sure to do the following:
Bring a stroller and a baby carrier to the demo.
Pack more food than you think you'll need for the baby. Danny really likes peanut butter and jelly sandwiches cut up into small squares.
Dress your baby appropriately! I can't tell you how many times I underestimated the strong winds in downtown Seattle and ended up wrapping Danny up in my jacket.
Bring a couple of your baby's favorite toys and books. An hour-long demo may seem like an eternity to a baby.
Try to put your baby down for a nap before the protest if possible. Cranky babies at protests are not fun.
Make your baby his or her own sign and tape it onto the stroller. At the last McDonald's demo we went to, Danny's sign read, "Ronald McDonald Scares Me," and people loved it.
Bring a camera.
Listen to your child. If your baby doesn't want to be at the demo and is screaming to no end, give yourself an "A" for effort and call it a day.
Stay close to your baby. I don't know why people like to touch other people's children, but they do. This past summer, I organized a demonstration and was the media spokesperson, so I asked a friend to stand near Danny while I was talking to the media.
10.  Bring your sense of humor! Things can go terribly wrong (blowout diapers happen!), so just roll with the punches and laugh it off.
Happy protesting!