How to Raise Vegan Kids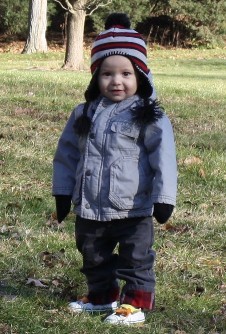 Conflicted Meat-Free Mom in Seattle writes, "I'm a vegetarian, and I have two young boys. Despite my many attempts to persuade him otherwise, my husband insists that our boys continue to eat meat! What can I do to convince him that eating meat is unhealthy? Help!"
First, congratulations on being vegetarian yourself and on wanting what is best for your two boys! I sincerely applaud you for your dedication. This is a tough situation because you and your husband share responsibility for raising your sons equally, but, of course, eating meat is not healthy. Plus, have you seen how cute vegan babies are? They're so happy and healthy!
Often, spouses will start to listen if they hear something from a different source rather than from their husband or wife—I recommend that you order materials from the Physicians Committee for Responsible Medicine about healthy vegetarian kids to show your husband that medical professionals back up your claims. You can also point out that, according to the American Dietetic Association, "appropriately planned vegetarian diets, including total vegetarian or vegan diets, are healthful, nutritionally adequate, and may provide health benefits in the prevention and treatment of certain diseases." Once your husband sees the facts about eating a healthy meat-free diet, it will be hard for him to disagree with you.
PETA offers great resources for kids, including The Kids' Guide to Helping Animals, as well as free animal rights stickers. These are fun resources that will show your kids in a gentle way that they shouldn't eat their furry friends. Incorporate yummy vegetarian snacks into their diets and see what they think. From chicken-free nuggets to vegan grilled cheese, there are so many cruelty-free options out there that your kids will never miss eating animals.
The Vegetarian Resource Group has a ton of useful information about raising vegetarian kids, and be sure to check out this article about the first year of raising a vegan baby, packed full of great resources. And don't worry—you're not the only mom who wants her kids to stop eating meat! The Vegan Mom is a great site maintained by a mother who wants to teach her kids compassion just like you.
The bottom line is that you and your husband need to work together to decide what is best for your kids. The advice adds up and shows that vegetarian kids are happy and healthy. So hopefully, with the help of a few resources and delicious home-cooked vegan meals, you can convince your husband of that too!
What do you think? Leave a comment below to share your thoughts on and experiences raising vegetarian kids.