Raising a Vegan Baby: The First Year
The following article was written by Amy Snyder. 
This is such a cliché, but it seems like just yesterday that my son was born. The 40-plus hours of labor that I suffered through felt like it lasted a lifetime, but the year since then has gone by in a flash. Now that I'm celebrating my son Dylan's very first birthday—and a rock 'n' roll birthday, at that—I've realized it's a good time to pass on what I've learned as a first-time vegan parent who is raising a vegan child.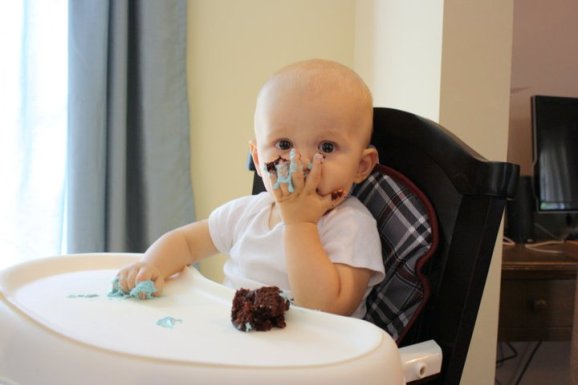 Dylan enjoying vegan cake on his first birthday
First and foremost, raising your child vegan isn't as difficult or complicated as some sources might lead you to believe. Babies need lots of love and care during their first year, but there are only a few areas of their early life that you need to veganize.
Milk
Doctors recommend breastfeeding infants, and yep, breast milk is vegan. If you can't breastfeed or choose not to, you can try to score breast milk from a vegan donor by going through an approved milk bank, or you can go the soy formula route. The vitamins in soy formula may contain trace amounts of animal products, but you can check with the manufacturer and decide what is best for your family. Please be sure to read PETA's stance on trace amounts of animal products.
Food
A baby's first foods are typically fruits, veggies, and rice cereal—all of which are naturally vegan. Once your baby is ready for small pieces of food instead of having everything pureed, you can introduce proteins such as tofu, tempeh, and soft cooked beans, and there's no need for meat! Just remember to feed your baby, vegan or not, a wide variety of foods and a balanced diet.  
Personal Care
Clothing
Vegans skip fur, leather, and wool in favor of cruelty-free fabrics, but as most babies I know aren't sporting leather pants or fur coats, this one is easy. Most play clothes are made from cotton—it's only the dressier items that may contain wool and the shoes that may contain leather, so be sure to read the label.
The doctors and child-care providers that I've been in touch with during Dylan's first year have been extremely knowledgeable about veganism and supportive of my choice. They seem to respect that every parent has the right to choose what is best for their child and raise them according to those beliefs, until the child can make his or her own choices. I realize that this isn't the case for everyone and that some people might act like you are depriving your child by choosing a vegan diet for him or her, but who could say that this little guy doesn't look healthy and happy?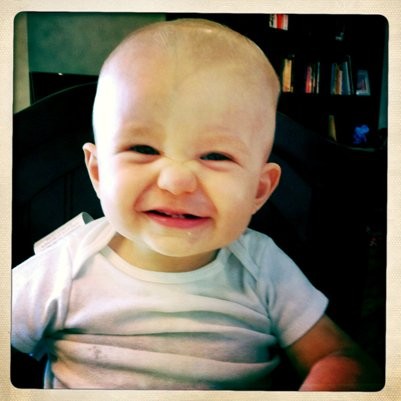 This advice is just the tip of the iceberg, and I'd like to know what all the other vegan moms out there think too. What are your best tips or advice for parenting a vegan infant?