Raising Vegetarian Children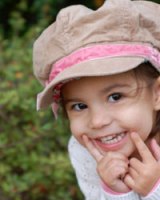 I would never presume to replace the original, but there's a book that's basically become my baby bible. It's called Raising Vegetarian Children by Joanne Stepaniak and Vesanto Melina, and if you are a vegetarian parent or a parent who's thinking about going vegetarian or you have a friend with kids who's vegetarian, you should purchase it immediately!
The book is packed with solid nutritional information for vegetarian parents, from infancy (including specific dietary guidelines and menu suggestions for nursing moms) through the teen years. It's a resource that you (or your friend or your friend's friend) will use for years.