No Ringling for My Family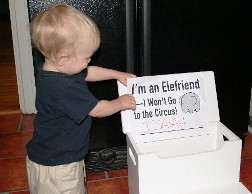 Far too soon for my taste, my little boy is cruising around the house—walking, running, tripping, and falling into just about everything I wish he'd stay away from. Yesterday, he got his first bloody nose, and it just about broke my heart. I imagine I'm not alone in wanting to shield my kid from pain, whether that's a minor head wound or the worst the world has to offer, which is why I'll never, ever take him to an animal circus.
PETA released an undercover investigation ofRingling Bros. circus a couple of weeks ago. The footage was deeply disturbing. Elephants, many of whom were ripped from their homes in the wild only to spend decades crammed into boxcars, chained for hours and hours every day, forced to breed and then bear the pain of having their babies taken away … these sensitive, intelligent animals are whipped, beaten, and screamed at by Ringling employees. Again and again, handlers and trainers sink the sharp points of heavy metal bullhooks into elephants' tender skin, often just minutes before the elephants go on stage. Night after night, the venue changed, but the beatings and intimidation didn't.
There are so many cruelty-free alternatives to circuses with animals and so many better ways to spend time with our children: take a nature walk, have a game night at home, volunteer at a wildlife rehabilitation center, or visit an animal-free circus featuring willing human performers, like Circus of the Kids or Circus Finelli. And talk your kids (and to other moms and dads!) about why you won't visit Ringling when it comes to town.
If your child's school plans a field trip to the circus every year, talk with your child's teacher and the principal about the violence inherent in animal circuses and urge them to consider alternatives. I know I won't be able to protect Isaiah from every bad thing, but there are decisions I can make as a parent to help him grow into a kind, compassionate man. Avoiding circuses that use and repeatedly abuse animals is just one small step I can take toward that goal.