Ruby Roth, Author of 'That's Why We Don't Eat Animals,' Chats With Us!
The following article was written by Michelle Carr.
Following the success of That's Why We Don't Eat Animals, a book by Ruby Roth about teaching kids compassion, Roth now has a second children's book, Vegan Is Love, set to be released on April 24. In an exclusive interview, she discusses her inspiration and offers advice on how parents can get active for animals. Be sure to check back early next month because we'll be giving away a copy of Vegan Is Love to one lucky winner!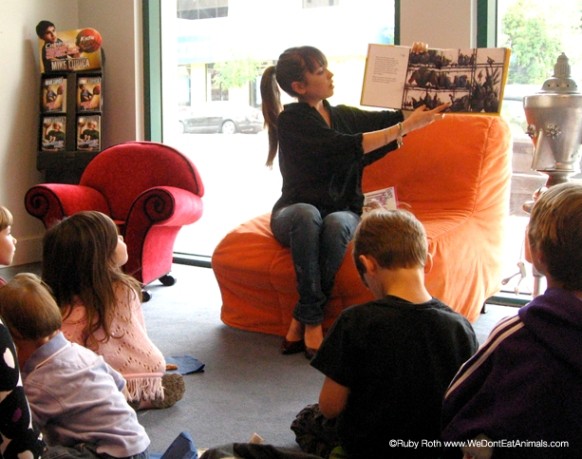 Thanks for taking the time to chat with us! How long have you been vegan, and why did you make the decision?
In 2003 a friend challenged me to go vegan as a health experiment. I tried it for a few months, and I stopped getting colds, I lost weight, I woke up early full of energy, and I could feel my body running off of clean fuel. It was like taking off a heavy jacket and starting to run … so I never went back! Then when I started researching our food and animal agriculture systems, my world was really blown open. Everything in my life—from my grandparents' experience in the Holocaust to my progressive upbringing and alternative education, to my interest in social justice should have led to my having been vegan already. But until my friend opposed my thinking, my values didn't match my eating habits. They do now.
That's Why We Don't Eat Animals is an immensely popular kids' book. What was the inspiration behind the book?
I was teaching art at an elementary school when the kids began questioning why I didn't eat the string cheese and milk they were served at recess. As I quietly and gently shared my reasons (I got braver later), I was shocked to find that they were interested, curious, inquisitive. Right away, I looked for a book I could bring to them, but I couldn't find one that wasn't about a talking animal or vegetable—I felt these kids were too cool and smart for that, they wouldn't pay attention to silliness. With degrees in American studies and art, I decided to create the book myself.
You have a new kids' book, Vegan Is Love, coming out on April 24. How is this book different from That's Why We Don't Eat Animals?
Where the first book is about the "why," the second is about the "how." Vegan Is Love is about sending our love across the world through everyday choices. From the food we eat to the dollars we spend to the clothing and entertainment we choose, anyone and everyone can make a vegan choice. This book shows children how. I consider it a kid's guide to "occupying" the world!
When you aren't writing wonderful children's books, what can we find you doing?
When I'm not developing books, researching and blogging, prepping food for my family, graphic designing, fashion illustrating, and being the woman-of-the-house, you can usually find me at a farmer's market! I kid you not, there are three nearby me during the week, and sometimes I go to ALL of them! It's joy, church, community, my social life, and grocery shopping rolled into one.
As I'm sure you would agree, kids are integral to creating a kinder world. What would you suggest for how parents can get their kids active for animals?
Wanting to help animals—or the environment, people, and Earth—comes first from having a sense of the world and our place in it. Have fun diving into analytical, interesting conversations with your child—at the grocery store when you're buying cruelty-free shampoo, at the farmer's market when you're handing over dollars for fruit, when you're reading homework textbooks and see the food group charts, when you see an ad for chicken nuggets during Sesame Street. Ask your children for their opinions on important subjects so they begin formulating morals and values on their own. It's fun and enlightening, their answers can be so insightful. And it's this kind of education in critical and compassionate thinking that lasts a lifetime.
*****
Keep in touch with Ruby on her website and on Facebook! For more information about teaching kids compassion, be sure to check out PETA Kids and TeachKind, PETA's humane-education division.
What tools do you use to teach your child to be kind to animals? Share your parenting tips with the rest of us in the comments below!