Thinking About Going Vegetarian?
The following article was written by Dr. Jenn Berman, a marriage, family, and child therapist in private practice in Los Angeles.
There is a movement in this country toward more conscious eating—eating that requires thought about how food choices effect the environment, how animals are treated, and, of course, how food affects our bodies. It has been estimated that 7.3 million adults follow a vegetarian diet, and of those, 1 million are vegan (meaning they do not eat any animals or products that come from animal sources, such as milk and eggs). Experts are reporting that more and more children are choosing to go vegetarian, and more parents are opting to raise their kids without meat.
Best sellers like Skinny Bitch, Eating Animals, and Food Rules have caused people to become more conscious about their food intake on a deeper level. According to a poll done by Vegetarian Times, the following statistics are true:
Forty-six percent of people polled reported that they chose to become vegetarians in order to be healthier.
Fifteen percent made the switch for animal welfare reasons.
Twelve percent switched as a result of the influence of family or friends.
Five percent switched because of ethics.
Nine percent switched for other reasons.
Gone are the days when parents had to worry about their vegetarian kids having poor nutrition. Today's markets, specialty stores, and online stores are filled with nutritious vegetarian options. It just takes a little more time, research, and reading to make sure that your child is getting a balanced diet—but it is worth it. There are many reasons for you to considering going vegetarian:
1) Avoiding disease and increasing lifespan
I don't know about you, but I want to dance at my grandchild's wedding, and I hope that my children will live well into the triple digits. In fact, research shows that vegetarians and vegans have far lower risk of heart disease, cancer, hypertension, diabetes, gallstones, kidney disease, obesity, and colon disease. Research at Loma Linda University has found that vegetarian men live, on average, about seven years longer than their meat-eating counterparts. European studies have shown that vegans may live an additional 15 years over the animal-eating population. "The China Study," which is considered to be the most comprehensive study of nutrition ever conducted, found that people who ate the most animal-based foods had the most chronic diseases and that those who ate the most plant-based foods were the healthiest and had the fewest chronic diseases.
2) Inhumane treatment of animals
When I was 10 years old, I saw a documentary on slaughterhouses and never ate meat again. Once you are aware of—or even more powerfully, witness—the slaughter of animals, it is difficult to eat meat ever again. It is also difficult to explain to your child why he or she should not pull your dog's tail but why it is OK to put animals in some of the cruelest imaginable conditions—as is done on factory farms, which account for 99 percent of all animals eaten in this country—and then slaughter them mercilessly. According to one worker at IBP, the world's largest meat-packing company, "Workers can open the legs, the stomach, the neck, cut off feet while the cow is still breathing …. I would estimate that one out of ten cows is still alive when it's bled and skinned." John Robbins, author of The Food Revolution, estimates that number to be closer to 90 percent.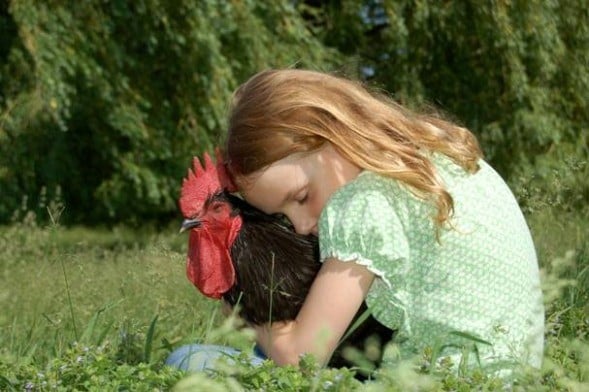 We work very hard to disconnect from the truth of what we eat. We call cows "beef" and pigs "pork" in order to protect our children from the truth that we don't want to face ourselves. When a friend's insightful 3-year-old son asked if the chicken he was eating was like the chicken he had seen on a farm, she was at a loss for words. As hard as it is, children deserve accurate and age-appropriate information. Some may argue with me that telling a child that the chicken he is eating was once just like the one he saw walking on the farm is not age appropriate, but I disagree. Young children don't need to know the details of the slaughter, but they deserve to know where their food really comes from.
3) Environmental impact
Meat production is harmful to the planet, and our children need us to keep it in good condition for their future. Research has shown that animal agriculture is the single largest source of methane, which is a greenhouse gas that is 21 times more powerful than carbon dioxide. Factory farming also creates a huge amount of toxic sludge. According to the WorldWatch Institute, the population of animals raised for food produces nearly 89,000 pounds of excrement per second, which is 130 times the waste of the entire human population of the United States. Disposing of all this animal waste is problematic for the planet. While there are very strict laws about the disposal of human waste, equivalent laws do not exist for animal waste. Because of agricultural waste emptying from rivers and tributaries into the Gulf of Mexico, there is a "dead zone," where there is no oxygen in the water and where the water cannot sustain any life. In 2008, this dead zone was reportedly 8,000 square miles.
Factory farming also uses incredible amounts of water, which is one of the Earth's most important resources. According to the Water Education Foundation, it takes 2,464 gallons of water to produce 1 pound of beef. By comparison, it only takes 23 gallons to produce 1 pound of lettuce. Based on these numbers, Robbins estimates that you can save more water by not eating 1 pound of beef than if you skipped your daily shower for six months.
4) Avoiding toxins
A recent study in the journal Environmental Health Perspectives revealed that people who frequently eat poultry and beef have higher levels of PBDEs (Polybrominated diphenylethers), a common flame retardant, in their blood. How did flame retardants get in your food? These chemicals are everywhere: in children's pajamas, mattresses, computers, TVs, furniture, upholstery, rugs, draperies, home electronics, and car interiors. They leak into the environment through the air, are carried by dust and water, and enter the food chain. These hormone disrupters have been linked to impaired memory, hyperactivity, infertility, and abnormalities of coordination. The study found that vegetarians had PBDE concentrations that were 25 percent lower than omnivores.
Because fish are known to be a great source of brain-boosting omega-3 fatty acids, parents tend to be especially pleased when their children are willing to eat fish. But it is important to note that mercury-contaminated fish are the main source of human exposure to this toxic heavy metal. While freshwater fish and large, long-living fish generally accumulate the highest levels, a government test of fish pulled from nearly 300 streams in the U.S. found that every one of them was contaminated with some level of mercury. Mercury is a neurotoxin especially dangerous to neurological development in infants, children, and fetuses. The study found that 27 percent of the fish had mercury levels high enough to exceed what the Environmental Protection Agency considers safe for those who eat fish twice a week.
5) Contaminated food
If you think that thoroughly cooking your child's burger is an assurance that he will not get a foodborne illness, think again. According to the Centers for Disease Control and Prevention, food borne illnesses such as E. coli and salmonella still sicken an estimated 76 million Americans each year. Approximately 325,000 people are hospitalized, and 5,000 die. Many are children. Since her 2-year-old son died from eating a tainted hamburger, Barbara Kowalcyk has devoted her life to advocate for safer food. But in many ways, she is fighting an uphill battle. In 1998, the USDA gained the power to be able to shut down a meat plant for the repeated presence of salmonella and E. coli, but the federal agency has since lost that power because of lawsuits from the meat and poultry industries.
There have been cases in which E. coli was found in fruits and vegetables, but they were contaminated by water containing cattle waste. And E. coli is most commonly found in ground beef. According to Public Citizen, a nonprofit consumer organization, slaughterhouse workers kill and gut as many as 350 animals per hour and are under tremendous pressure to work fast, causing errors such as the puncturing of the intestines, bladders, and bowels during cutting, which releases waste matter that ultimately gets ground up into burgers. As Eric Schlosser reports in his powerful documentary Food Inc., mass-produced ground-beef hamburgers are composed of pieces of thousands of different cows. If one of those pieces of meat is contaminated with fecal matter, the whole lot is contaminated. According to Gail Eisnitz, author of Slaughterhouse, it is not a question of "if" there is fecal matter in your family's meat, but "how much."
Make That Change!
Whether you're vegetarian or vegan, you stand a good chance of making a difference in the health of your family and the planet. It's good for animals too. You can save more than 100 animals each year by switching to a vegetarian diet.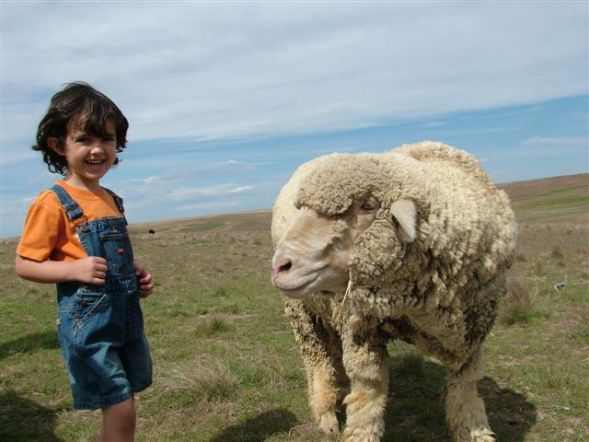 Food has a lot of emotional meaning for most people, and making changes, even when you want to, can be challenging. It can be helpful to get educated about vegetarianism and nutrition and also to share books with your child that reinforce the new family plan.
Click here to visit Jenn's blog to view a complete list of suggested books for parents and children.