Pack a Lunch With Punch!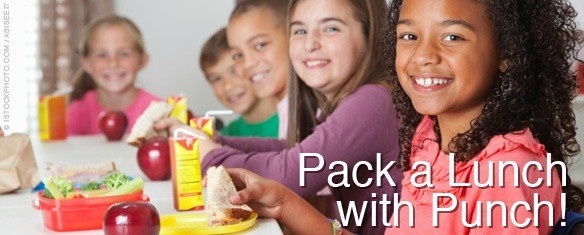 Back-to-School Veggie Style: Healthy Lunches That Kids Will Love!
Another tip: Think outside the (lunch)box. We love PB&J, but many other options are just as easy—and a welcome change. With the help of Jennifer McCann, who runs the Vegan Lunch Box blog, we put together tasty lunchtime treats that your kids are sure to enjoy. Try bagels with Tofutti's Better Than Cream Cheese, mini English-muffin pizzas, Tuno salad, a thermos packed with veggie beans and franks, or heat-and-eat vegetarian chili. With a little imagination, it's easy to pack a lunch that your kids will love! Here are a few of our favorite ideas to get you started.
Veggielicious Lunchbox Dishes
Spread some veggie ham with vegan cream cheese and roll up for a fun and easy-to-eat lunch box treat.
Make a veggie dog in a blanket—wrap a veggie dog in a crescent roll and bake. Pack ketchup for dipping.
Create crunchy triple-decker PB&Js: Cut rice or corn cakes in half with a sharp knife and spread on jam and a nut butter, and then top with the other half.
Spread bread with eggless mayonnaise (try Nayonaise or Vegenaise) and pile on veggie deli slices—such as faux ham, faux turkey, or "phony baloney"—and Tofutti American soy cheese slices. Cut into triangles or fun shapes using cookie cutters.
Make a mock chicken-salad sandwich with Morningstar Farms Meal Starters Chik'n Strips available at health-food stores.
Pack P.B. Slices, individually wrapped slices of peanut butter, with bread or crackers; kids can combine them at lunchtime.
On those hectic mornings, toss a Smucker's frozen PB&J sandwich in your child's lunchbox; it will be thawed and ready to eat by lunchtime.
Make burrito roll-ups by spreading tortillas with Tofutti Better Than Cream Cheese; add olives or diced veggies, roll up, and cut into bite-size pieces. Olé!
Make your own "good lunch" by packing meat-free Smart Deli Pepperoni slices, soy cheese slices, and crackers.
Spread a bagel with Tofutti Better Than Cream Cheese, top with veggie pepperoni, and cut into halves or quarters.
Make a mock tuna-salad sandwich by substituting Worthington's Tuno (Available at health-food stores) for tuna in your favorite recipe.
For a healthy alternative to egg-salad sandwiches, try eggless "egg" salad: Mash together tofu, soy mayo, turmeric, salt, and spices.
Pair veggie kebabs (try cherry tomatoes, cucumber slices, sweet peppers, and baked tofu cubes) with "ranch" dip (combine Tofutti Sour Supreme with McCormick Spring Onion Dip Mix—it's vegan!).
Cut mini-pitas in half, and stuff them with hummus and chopped tomatoes, falafel, or your favorite sandwich filling.
Prepare an easy pasta salad by combining cooked spiral pasta with diced cucumbers, tomatoes, and/or peppers and chunks of baked tofu, veggie Canadian bacon, or Morningstar Farms Meal Starters "chicken" or "steak" strips; mix with your favorite vinaigrette.
"Shake 'N Bake" mock chicken chunks instead of the real thing. Several Shake 'N Bake flavors are vegan—just use chopped mock chicken, Morningstar Farms Meal Starters Chik'n Strips are great hot or cold.
Pack hard breadsticks with dip, such as pizza sauce, peanut butter, or hummus.
Make a mini pizza by topping toasted English muffins (Wonder Bread-brand muffins are vegan) with a dollop of pizza sauce, a slice of soy cheese, and veggie pepperoni.
Hot Ideas for the Thermos
Make some homemade "sausage" gravy and pack some biscuits for a comforting cold-weather meal.
Fill the thermo with veggie meatballs in tomato sauce. Pack it with a roll to make a veggie meatball sub.
Spice up lunchtime by filling your kids' thermos with vegan taco meat or refried beans. Pack taco shells and their favorite taco toppings. Try Tofutti Sour Supreme and salsa.
Warm your kids up on cold winter days by heating Hormel canned vegetarian chili and packing it in a thermos. Pack a baked potato so they can top their spuds.
For another easy heat-and-eat treat, try Campbell's tomato or vegetable soup. (Please be sure to check labels—some soups contain beef or chicken broth.)
When you have a little more time, make alphabet soup using vegetable or faux-chicken broth instead of chicken stock and diced mock chicken. Make a pot over the weekend, then reheat it on Monday morning to start your kids' week off right.
Make a better "beefaroni" by mixing macaroni, Morningstar Farms veggie burger crumbles, and tomato sauce.
Combine Vegetarian Baked Beans and veggie dogs for the classic kids' favorite "beanie weenies."
Don't forget to include a sweet treat, healthy drink, and afternoon snack.
Sweet Treats
Fresh fruit, such as a sliced apple, grapes, or a peeled and separated orange—or try fruit kebabs
Fruit roll-ups or fruit leather
Soy yogurt cups (try Stonyfield Farm's O'Soy, WholeSoy, or Silk brands)
ZenDon soy pudding cups
Raisin boxes or other dried fruit
Unfrosted strawberry or blueberry Pop Tarts
Vegan cookies (for a list of brands, click here)
Graham crackers, with or without chocolate frosting filling
Clif or Luna bars
Drinks
Juice boxes
Canned vegetable juice
Bottled water
Chocolate or vanilla Silk soy milk singles
Snacks
Pretzel sticks, mini bagel chips, or potato sticks or chips
Mini cereal boxes
Individual bags of bite-size carrots or celery
Nuts
Trail mix
Kid-Tested Lunchtime Tips
Make food fun by cutting sandwiches into different shapes. Cookie cutters are great for this.
In hot weather, keep foods cool by including a carton or plastic container of juice, frozen overnight, in the lunchbox. The juice will be thawed by lunchtime.
Pack "kid-size" foods like cherry tomatoes, baby bananas, and mini boxes of raisins.
You can control what goes into your child's lunchbox, but you can't control what goes into your child. Send your kids to school with a lunch they like—and one they've helped prepare and pack—and they'll be less likely to toss or trade it.
Rely less on processed, packaged foods—replace them with fresh foods whenever possible.
Remember that kids can be influenced by peer pressure—foods they love at home might be not-so-cool at school. Ask them what types of foods their friends bring for lunch—whatever it is, you can probably find a vegetarian version.
Most kids will skip foods that take a lot of effort to eat. A little prep work can make almost anything more kid-friendly. For example, peel clementines and oranges, then cover them with plastic wrap before packing them, or cut kiwi fruit in half and let kids scoop out the flesh with a teaspoon.
It's a good idea to buy a small, reusable ice pack that can be frozen overnight and placed in the lunchbox—this helps keep perishable foods fresh.