Healthy Hearts for Children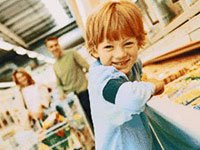 A vegan diet for kids can help prevent heart problems in adulthood.
Many children who are raised on the traditional American diet of cholesterol- and saturated fat–laden chicken nuggets, hot dogs, and pepperoni pizza already show symptoms of heart disease by age 7. Heart disease is the number one killer of adults in the U.S.
A surprising number of children as young as 3 or 4 years old have the early signs of artery changes that can lead to heart attacks later in life. Many American kids have signs of heart disease by their early teens. A study in The New England Journal of Medicine found that at least 60 percent of children and young adults have early atherosclerotic damage (hardening of the arteries). It's no wonder, considering that hot dogs, sausages, or bacon are on the daily menu for a stunning 25 percent of kids between the ages of 19 months and 2 years.
Dr. Dean Ornish raves that the "vegan diet is the most powerful protection against chronic disease we can offer our children."
The number of obese adolescents has tripled since 1990. Pediatricians are reporting an alarming increase in the number of children diagnosed with type 2 diabetes (typically an adult disease), and 85 percent of those cases involve overweight kids. Many kids are becoming sick and developing lifelong, debilitating diseases because of their lifestyle choices, including electing to consume high-fat animal products that feature heavily in the typical American diet.
Nutritionists and physicians have learned that plant foods are good sources of protein, iron, and calcium because they can be easily absorbed by the body and don't contain artery-clogging fat and cholesterol. A plant-based diet offers kids the best protection against high blood pressure, reducing their risk of developing this disease by nearly 70 percent. The American Dietetic Association states, "Well-planned vegan … diets are appropriate for all stages of the life cycle, including during pregnancy, lactation, infancy, childhood, and adolescence." In addition, an Australian study found that vegetarian children had better cholesterol levels and healthier body weights than their meat-eating counterparts.
Caring parents should start their children off right by teaching them to make healthy eating choices, which will help protect kids from a host of ailments. The best way to prevent and control obesity and diabetes and to help ensure healthy hearts is by feeding kids a low-fat, cholesterol-free vegan diet and making sure that they get regular physical activity. After all, our kids deserve to be able to run and play with their own kids someday.