The 17 Most Delicious Vegan Meats EVER
Each of these vegan meats is so yummy that you'll be begging for a second serving. Whether you're already vegan or wanting to save nearly 200 animals a year by going vegan, think of this as your go-to animal-free meat guide. So grab a parent and head on over to the nearest grocery store to stock up!
1. Beyond Meat Beyond Burger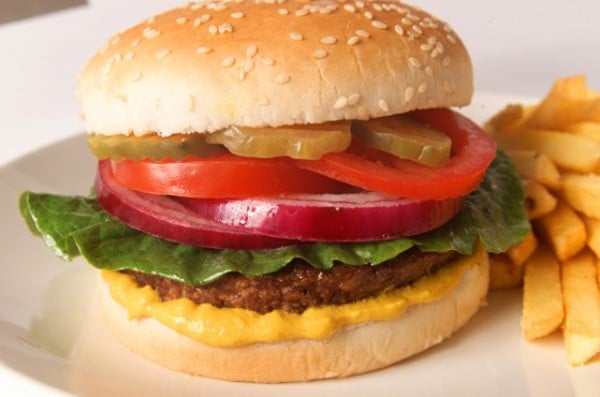 Need something that can persuade your meat-eating friends to go vegan? Well, this is it. Beyond Meat burgers—and all the company's products (keep reading to learn about some of the others)—are so "meaty" that you might be tempted to quadruple-check the ingredients. They're that realistic.
Best for: persuading your friends that vegan meat is absolutely fantastic (Have your parents throw some on the barbecue for a quick dinner.)
2. MorningStar Farms Hickory BBQ Riblets
This is for anyone who's ever wanted a barbecue sauce–covered riblet sandwich without the cruelty.
Best for: summertime or any time you need a seriously satisfying but quick barbecue fix (Just be careful not to burn yourself while opening the bag after heating it up—ouch!)
3. No Evil El Zapatista
No Evil Foods
No Evil's vegan chorizo is sure to impress any of your pals. It has a bold spice blend and a texture that won't be silenced. Not able to find this specific brand? Good news: You can find some brand of vegan chorizo—like Trader Joe's, Tofurky, or Upton's Naturals—at most grocery stores.
Best for: tacos and burritos (Also, ask your parents to try tossing some into a tofu scramble or a pot of vegan chili! Mmmm.)
4. Beyond Meat Beyond Sausage
These sausages are probably the best thing ever. You can choose between a Brat Original and a Hot Italian sausage—and let us just say, we simply can't get enough of the spicy ones.
Best for: slicing up in pasta, eating as-is or in a bun, or even putting small slices on pizza (And they're delicious with a tofu scramble and some hash browns for breakfast.)
5. Boca Original Chik'n Veggie Patties
BOCA
It's the perfect li'l fast-foodish breaded "chicken" patty. Make a sandwich, or cut one up and put it in a wrap or salad.
Best for: a super-quick and easy meal (Just watch out—these patties are kind of addictive. ☺)
6. Lightlife Smart Dogs
These vegan hot dogs taste just like any other hot dog—but no animals (like pigs) were harmed for them! Take a pack or two on a camping trip and roast 'em over the fire.
Best for: barbecues and campfires or when your family makes chili "cheese" dogs or vegan pigs in a blanket
7. Hilary's World's Best Veggie Burger
Hilarys
Hilary's burgers are all made with simple vegan ingredients. They're free from common allergens, too, and they taste delicious.
Best for: those times when you really want a veggie-filled burger
8. Beyond Meat Beyond Beef Crumbles
Beyond Meat
This Beyond Beef product is kind of the unicorn of vegan meats. Not only is it just as delicious as this brand's burgers, it's also super-easy to use in recipes!
Best for: taco meat, meaty pasta sauce, or sloppy Joes (You can use this to beef up just about any dish.)
9. Trader Joe's Meatless Meatballs
Don't want to form your own meatballs? Then this is a great option, because there's really nothing better than a plateful of classic spaghetti and meatballs—vegan style.
Best for: spaghetti and meatballs or meatball subs
10. Field Roast Miniature Corn Dogs
Field Roast
These mini corn dogs are all you need to bring to a team potluck or whip up real quick when your friends come over after school. They're delicious, breaded, and bite-size. What more could you ask for?
Best for: an easy snack, dipped in your fave condiment (like mustard or ketchup!)
11. Quorn Meatless Vegan Fillets
Quorn
Vegan chicken? Yes, please! These tasty strips are easy to prepare, and not a single chicken was hurt for them.
Best for: fajitas, wraps, burritos, or on their own dunked in your fave dip
12. Upton's Naturals Traditional Seitan
Seitan, made from wheat gluten, is a miracle for lovers of vegan meat everywhere. It's pure protein—and super-filling and yummy. Think of it as tofu's BFF!
Best for: anything your heart desires—soups, stews, stir-fries, or sandwiches (Seitan can be used in about a bazillion different recipes.)
13. Sol Cuisine Burgers
Sol Cuisine
From its Chickpea Sweet Potato Burger to its Lemon Dill Salm'n Burger, Sol Cuisine has a patty for any craving. Plus, all the company's products are not only vegan but also organic, wheat-free, and gluten-free.
Best for: anytime you want a tasty, healthy veggie burger (Put one of the patties on a bun or in a salad—or roll one up in a tortilla for some zesty wrap goodness.)
14. Gardein Seven Grain Crispy Tenders
Sitting down with a huge plateful of these crispy tenders and watching movies with friends makes us supremely happy.
Best for: an after-school snack or paired with some yummy veggies to make a meal
15. Field Roast Sausages
These vegan sausages are so good. And the best part? None of our animal friends were killed for them.
Best for: sticking in a bun, chopping up for pastas or casseroles, or frying up for brunch and serving with pancakes
16. Tofurky Plant-Based Deli Slices
Here's something that hasn't been mentioned yet: deli slices. These are great for a super-quick sandwich whenever your tummy is rumbly.
Best for: when you just can't eat one more PB&J
16. Gardein Fishless Fillets
Cook the filets and some vegan French fries according to the package directions for a taste sensation.
Best for: serving with vegan tartar sauce (like Follow Your Heart)
*****
Have you tried all these delish vegan meats? If not, well, ya better get to it—and make sure your friends do, too!