Cute Facts About Animals in Shelters
Always adopting animals from shelters (and never buying them from pet stores or breeders) not only means you get to share your home with a new BFF but also has tons of other cool perks, too! Here are just a few super-cute facts about animal shelters.
1. Twenty-five percent of dogs in animal shelters are purebreds.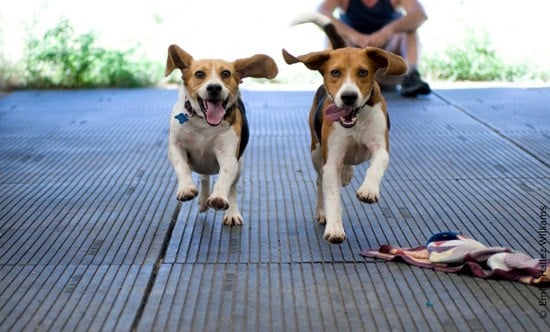 If your family has its heart set on a certain breed, chances are that you can find that breed at your local animal shelter.
2. You can adopt more than dogs and cats.


Many animal shelters have rabbits, hamsters, rats, mice, and guinea pigs—and some even have turtles, chickens, and reptiles—all waiting for their forever home. 🙂
3. Your parents can save $$—and your shoes.


Puppies and kittens are adorbs, but they're a LOT of work—not to mention expensive. Shopping is fun and all, but if you want to save your shoes (and your homework and toys) from becoming chew toys and your dad's favorite armchair from becoming a scratching post, you can adopt an equally cute and lovable adult dog or cat who's outgrown that awkward stage.
4. Someone else has done all the work.


Many dogs and cats in animal shelters are given up by people who simply can't take care of them anymore, so it's easy to find plenty of sweet animals who are already house-trained and friendly and who may even know a few tricks!
5. Helping animals in shelters = FREE HUGS!
© iStock.com | Dreamframer
Got the love but not the time to play with cats all day? Volunteer with a parent or guardian at your local open-admission shelter or ask your parents to look into a fostering program! Not only will you be able to meet loads of adorable animals, you'll also play a role in finding them forever homes. The time you spend socializing them will help make them more adoptable, and you will get lots of love in the process. WIN-WIN!
6. Animal shelters help more than you think.


It's common practice for animal shelters to spay or neuter animals as part of the adoption process. So you're not just saving one animal—you're saving the hundreds of animals one cat or dog and his or her offspring can give birth to in their lifetime.
7. Animal shelters provide a built-in support network.


Workers and volunteers at animal shelters know the animals well, and they'll help you find your perfect match. They know each animal's history, what games are his or her fave to play, and what cuddles he or she likes best. Some animal shelters even offer classes to get to know your new furry friend!
8. Animals from shelters have bigger ♥s!


Ever had a bad day until a friend did something nice for you? Think about how happy you were to have that person in your life. Now imagine that you've spent your whole life in crummy situations, like some of the animals in shelters have. YOU can be that ray of sunshine by giving an animal in a shelter a loving home. He or she will pay you back in love and kisses for years to come!
Animal shelters RULE! When it comes to adding animals to your life, don't forget: Adopt, don't buy.