The Best Books for Kids Who Love Animals
We've picked the best books for compassionate kids and parents alike. Check out our ultimate list of animal-friendly books below. You're sure to love them! ❤️
THE ADVENTURES OF SERGEANT PIGGY
Follow Sergeant Piggy as he goes on worldwide adventures and meets many mythical creatures. He also finds tasty vegan treats on most of his stops—yum! Buy it! 
Animals Are My Friends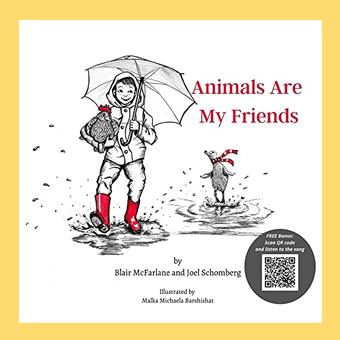 This songbook is perfect if you love to sing and dance. Learn all about how you can be compassionate to every animal species while you sing along.  Buy it on Amazon or listen for free.
Animal Rescue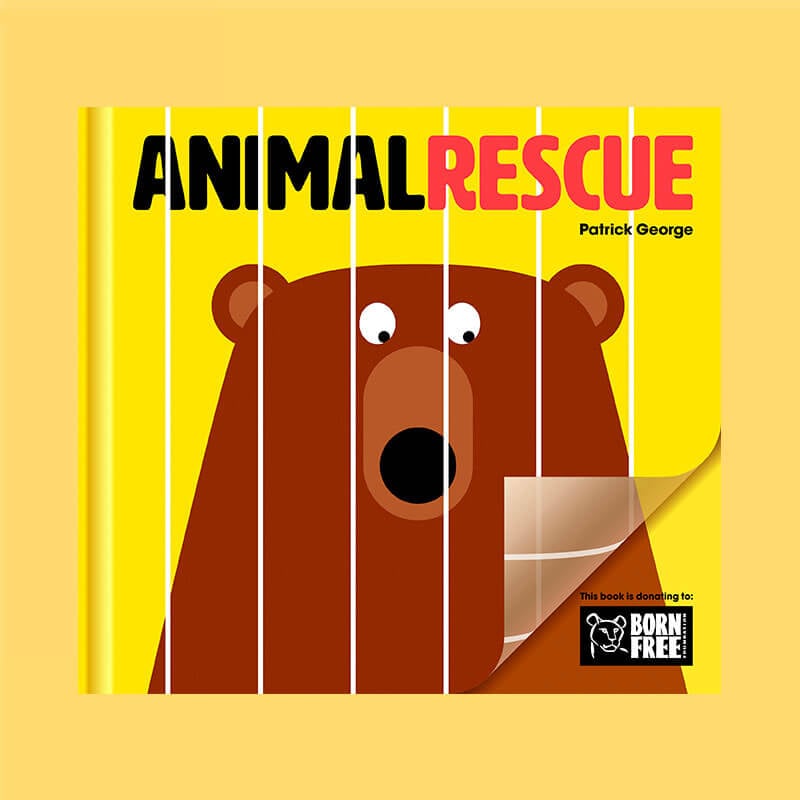 With this interactive book, kids can become animal-rescuing heroes! Turn the transparent pages to move animals from bad situations to places where they're happy and free. Buy it!
Baa Humbug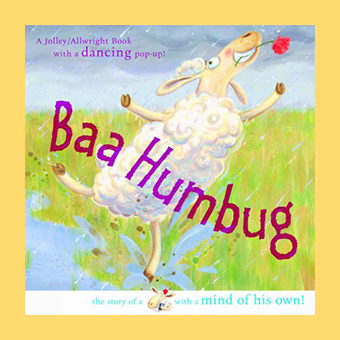 In this book about being an individual, Baa Humbug is a sheep with a mind of his own. He doesn't follow the herd, and he teaches us that it's OK to be different. Buy it!
Before You Were Mine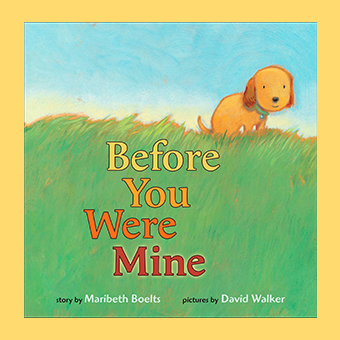 A little boy imagines what life was like for his new dog before he adopted him from an animal shelter. This book serves as a great reminder to treat animal companions with the respect that they deserve and to give them lots of love. Buy it!
Benji Bean Sprout Doesn't Eat Meat!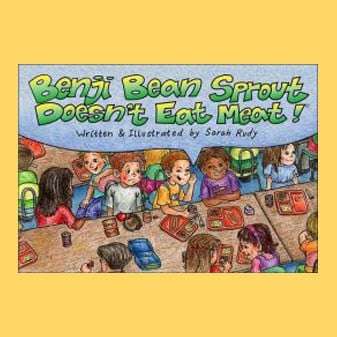 Benji "Bean Sprout" is just like any other boy, except for one thing: He doesn't eat meat. Follow him as he visits interesting animals at an animal sanctuary and discovers why he's a vegetarian. Buy it!
Black Beauty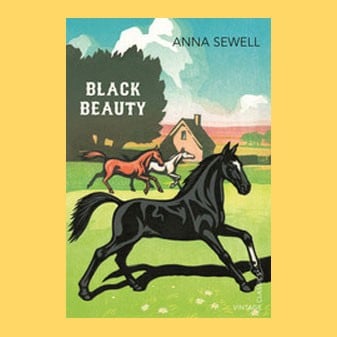 Black Beauty's story begins when he's a handsome, lively young horse without a care in the world, running and playing in the meadows with his mother and other horses. But his life changes when he's sold to people who don't always treat him kindly. Through his struggles and pain, we learn that horses—and all animals—deserve to be treated with kindness. Buy it!
Blueberries for Sal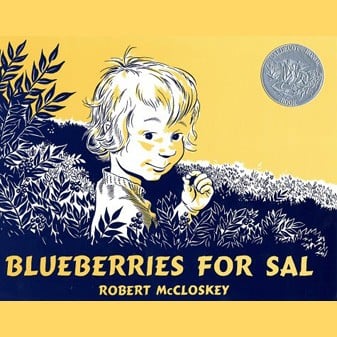 A human mother and her little girl go up the mountain to pick wild blueberries to preserve for the winter. At the same time, a bear mother and her little cub go up the other side of the mountain in search of blueberries to eat before winter comes. See what happens when the two mothers find that their little ones have changed places! Buy it!
The Boy Who Loved All Living Things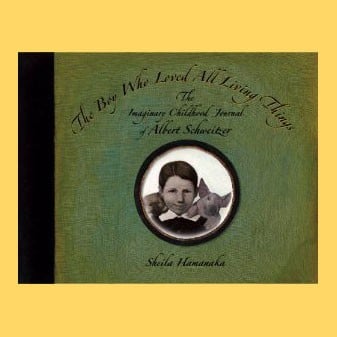 This is an imaginary childhood journal of historical figure Albert Schweitzer, in which "he" tells how his animal friends taught him to be kind to all living creatures. Buy it!
The Boy Who Loved Broccoli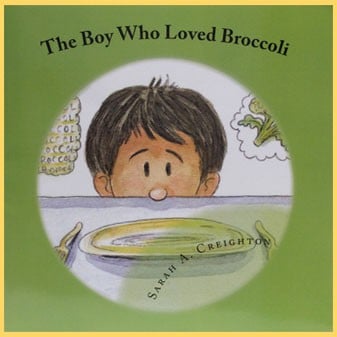 Baxter loves broccoli, and it gives him superpowers! He does good deeds and persuades other people to eat broccoli so that they can be superheroes, too. Buy it!
BREE AND ME: A TRUE STORY OF A RESCUE ROOSTER'S JOURNEY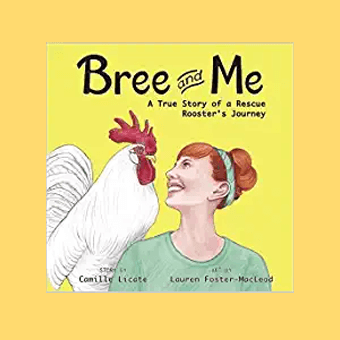 Learn about the real journey of a rooster named Bree and how she forever changed the life of Camille, the person who rescued her. Buy it!
Buddy Unchained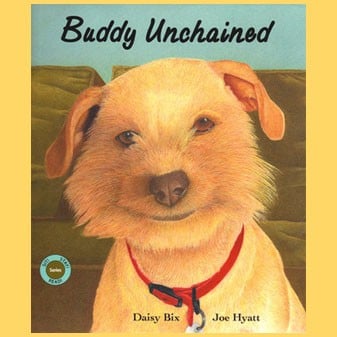 Buddy the dog was left chained outside without clean water or enough food. Follow his story, from when he was a sad "backyard dog" to when he was adopted into a loving home. Buy it!
A CHANGE OF HEART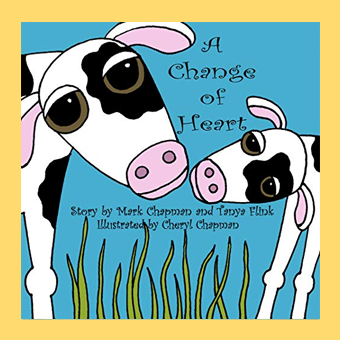 This book tells the story of a young calf born on a factory farm. He's taken away from his mother so that her milk can be given to humans—not her own baby! His story is a gentle reminder that cows—and all other animals—love their families and that the dairy industry ruins that family bond. Buy it!
Charlie to the Rescue!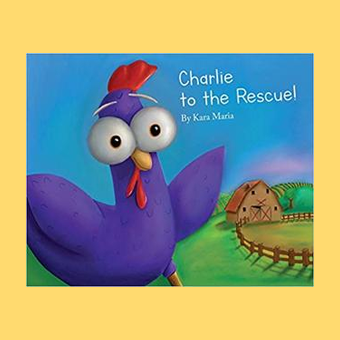 When Charlie the chicken learns that animal farms are dangerous places for the animals forced to live there, he's determined to rescue his new friends at Bradley's Farm—where they're in danger of being killed so that humans can eat them. ? Follow him on his journey as he learns about all that he must do to keep his friends safe. Buy it!
Charlie Ryan's Greatest Adventure
Go on a fun adventure with Charlie Ryan as he spreads a message of kindness to all animals. He encourages readers to pick up trash, adopt (not buy) dogs and cats, and go vegan. Buy it!
Charlotte's Web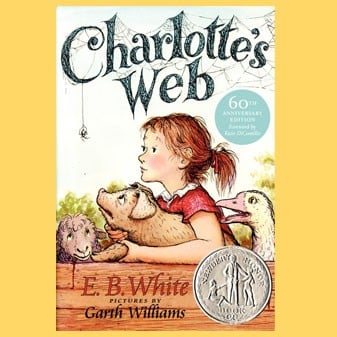 Charlotte's Web is the most famous animal-friendly children's book of all time. Wilbur the pig knows his life is at risk when he discovers that he's supposed to become the farmer's Christmas dinner. That is, until his friends—Fern the girl, Templeton the rat, and Charlotte the spider—decide to help him. Buy it!
The Chicken Gave It to Me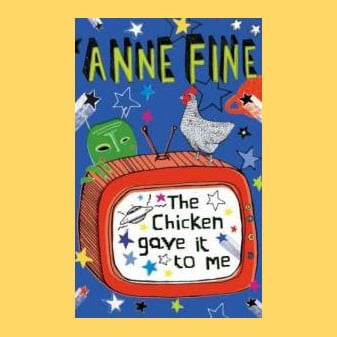 Narrated by a chicken on a farm, this book explores why it's wrong to use animals for food as well as the hopes that all living beings share. Buy it!
CHICKPEA RUNS AWAY
Chickpea the cow makes a split-second decision that changes her life. Based on several true stories, this book is a perfect jumping-off point for discussing how animals are raised for food. Buy it!
Claude and Medea: The Hellburn Dogs
This suspenseful story takes readers on a journey of self-discovery. Seventh-graders Claude and Medea aren't expecting a substitute teacher to change their lives, but she inspires this unlikely pair to view the world differently and become heroes for animals. This tale touches upon the issue of testing on animals, which is a topic that interests many young people. Buy it!
COMMOTION IN THE OCEAN
Dive under the waves and discover that, like us, fish want to be treated with kindness. This powerful story about the problems created by the commercial fishing industry encourages readers to leave sea animals off their plates. Buy it!
Courageous Conner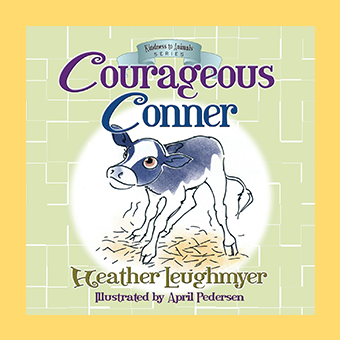 This is a rhyming story about a calf who's been taken away from his mom so that the milk that's meant to feed him can be used by humans instead. This book helps kids understand that calves don't want to be separated from their moms—just like they wouldn't want to be separated from their own mom. Buy it!
Dave Loves Chickens 
Dave is a lovely monster from far, far away who doesn't understand why humans eat animals. Buy it!
DAVE LOVES PIGS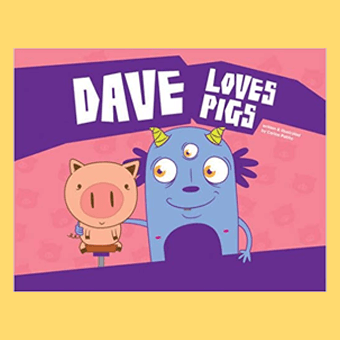 Dave is a lovely monster from far, far away who doesn't understand why humans eat animals. His favorite animal friends are pigs! Learn awesome facts about pigs and get to understand them better with this fun story. Buy it!
THE DAY I MET A LITTLE NO-FIN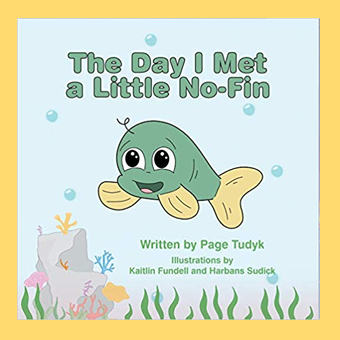 Follow the story of Phillip, a fish who lives in the ocean with his family and friends and gets scooped out of the ocean by a "thingamabob" and thrown into a water-filled bucket with a bunch of fish he doesn't know. Already terrified of humans (or "no-fins"), he begins to fear them even more as a result of being captured by one. Later, he meets a little "no-fin" who helps him get home and shows him that all humans aren't bad. Buy it!
Elephants of Thailand: The Smiling Elephant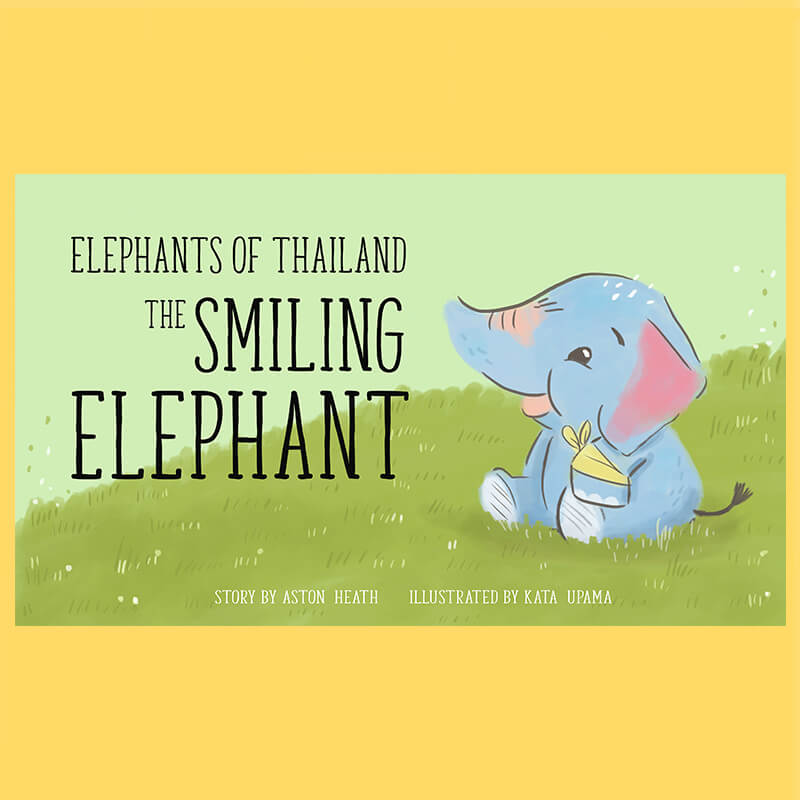 Children and adults alike can learn compassion and courage from elephants. This is a true story of how elephants in captivity suffer. Buy it!
An Elephant's Story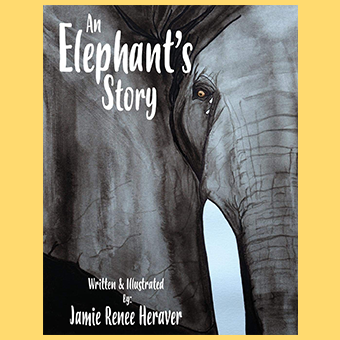 An Elephant's Story is a tale of a young girl who has a magical connection with an elephant while visiting a sanctuary and realizes that she can hear his thoughts. She hears that he was used to entertain people and give rides to tourists, and she learns why it's important to have compassion for all animals. Buy it!
Fiona Finds Love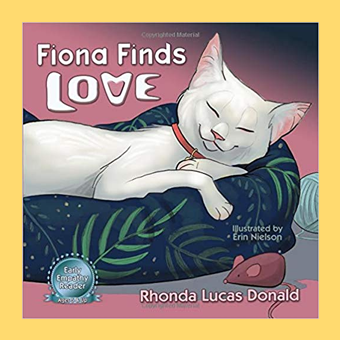 Like so many other stray cats, Fiona faces the dangers of life outdoors on her own: speeding cars, sickness, hunger, and the cold. Will she beat the odds and find a better life for herself and her babies? Cats deserve our love and care—and they have so much of both to give back. This book will help readers understand why cats belong indoors and should never be forced to live a dangerous, lonely life outside. Buy it!
This Is Freedom: Rayna's Story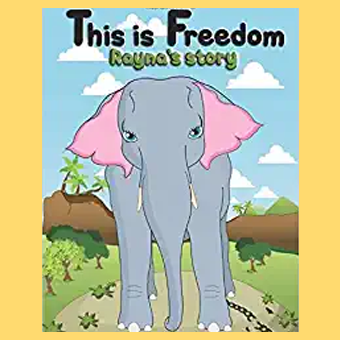 Katy, a girl who loves seeing elephants in the circus, gets to meet an elephant named Rayna after a circus show one day. When Katy realizes that the animal is chained up and covered with injuries from where she has been struck over and over again so that she'll perform tricks for the performances, she learns that a circus is no place for an elephant. She then makes it her mission to spread the word about the unhappy animal. With the help of a large community, Katy is able to set Rayna free. Buy it!
The Great Pig Escape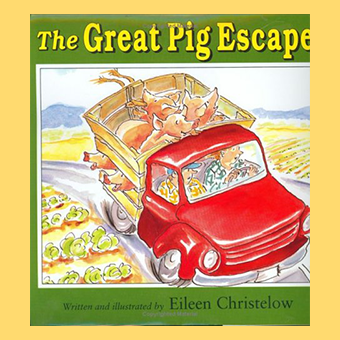 During their long drive to the market, Bert and Ethel's pigs mysteriously disappear. Kids can have fun finding them hidden in the pages that follow. Buy it!
Gwen the Rescue Hen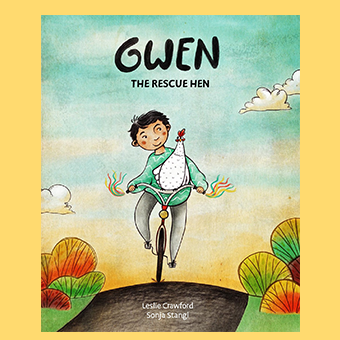 Gwen has spent her whole life stuck in a cage, unable to do anything a hen likes to do, just so that humans can use her for her eggs. But when a tornado turns her world upside down, she and her new friend, Mateo, are both able to do all the fun things they want. Buy it!
The Happy Tale of Two Cats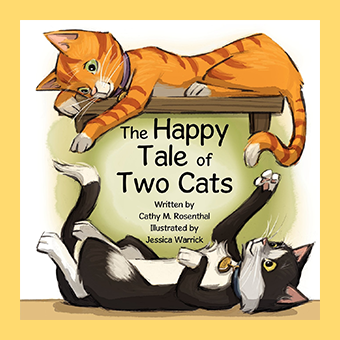 One cat is happy, with a loving human and a safe home. The other cat isn't so happy—she's often yelled at, just for being herself. Follow their journeys and find out how their paths cross. This book discusses how some cats suffer—and how to make sure kitty companions are happy and healthy. Buy it!
Harmony on the Farm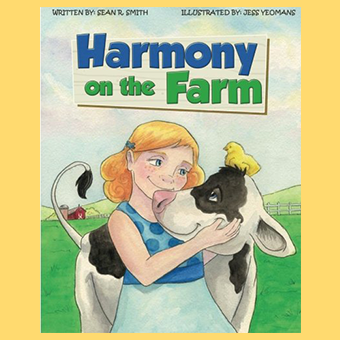 Harmony loves spending time at her grandparents' house. They have a lot of land with many different farmed animals. But while shopping for groceries after visiting them, Harmony makes a connection between the animals who end up on her plate and the animal friends who live on her grandparents' farm. Buy it!
Hetty and Harriet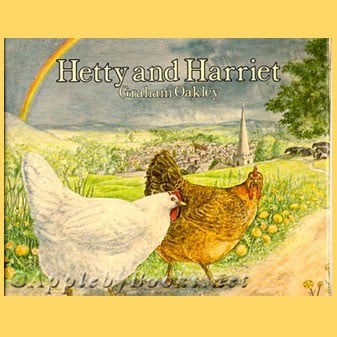 A young hen and her slightly older, wiser friend look for the perfect home. Buy it!
Hobbes Goes Home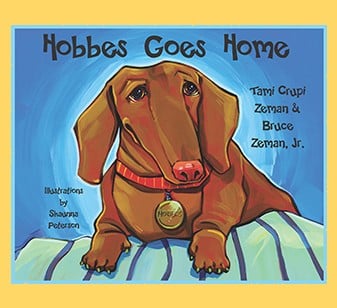 Hobbes Goes Home is the heartwarming true story of a little brown dachshund whose mother takes him to the local animal shelter to save him from unkind people. Read about Hobbes' experiences at the shelter, his dreams of finding a new family, and the man who changes his life forever! Whether you're a kid or just a kid at heart, you'll love this book.  Buy it!
Hope: A Pig's Tale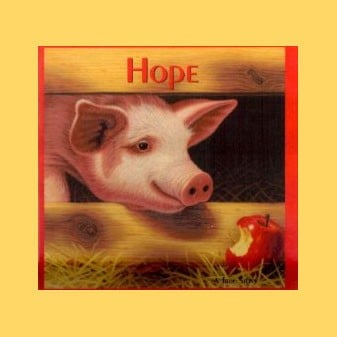 Hope, a young piglet born on a factory farm, is injured and left to die—until some kind folks come to her rescue. She's taken to an animal sanctuary, where she gets to play and have fun. Buy it!
How the Little Fox Saved Her Coat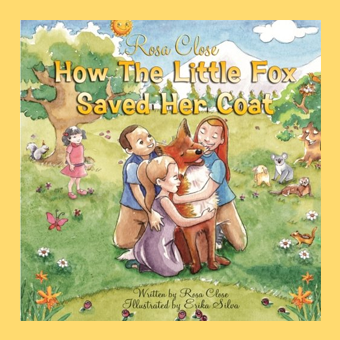 This story is about a little fox who goes to town to tell children her story about the way foxes—like her and her family—are hunted for their fur. She is met with love and affection, and the children promise to protect her as well as other animals like minks and rabbits by never wearing fur. It's the beginning of a long friendship and some positive action from humans to protect animals. Buy it!
How to Eat a Rainbow
Find out how to make healthy treats, snacks, and drinks in this book of magical recipes. Buy it!
How to Heal a Broken Wing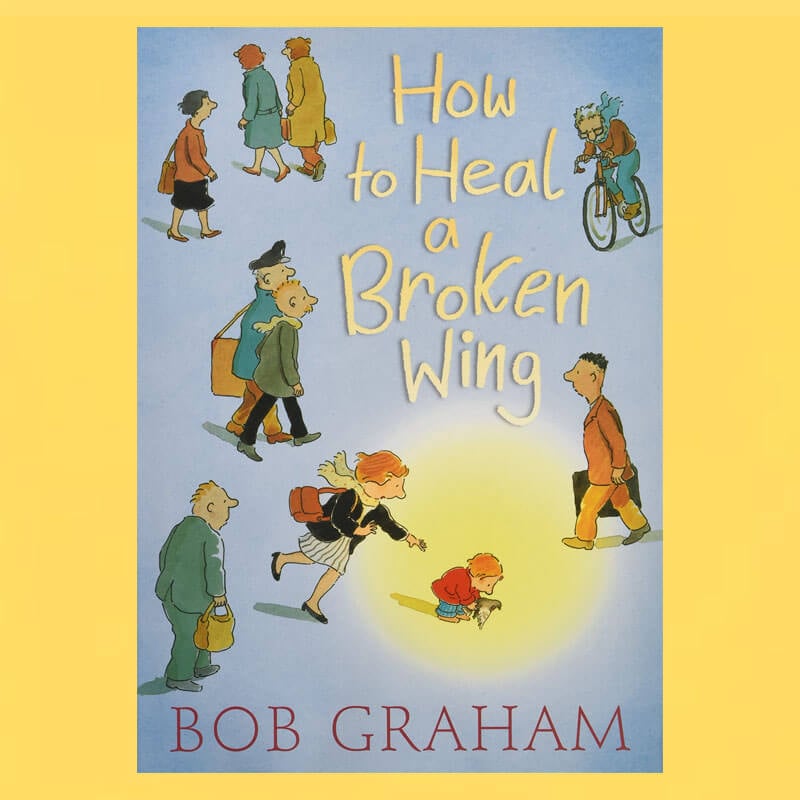 Everyone passes by an injured pigeon lying on the ground—except Will. He takes the bird home so that he and his mom can nurse him back to health and get him flying again. Buy it!
Hubert the Pudge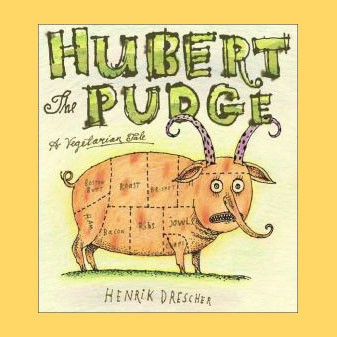 Hubert is a pudge, and pudges can never grow up, because they're sent to the slaughterhouse and turned into TV dinners and other greasy foods. Hubert goes on a mission to save his fellow pudges and teach a farmer a lesson in compassion. Buy it!
Hunter and His Dog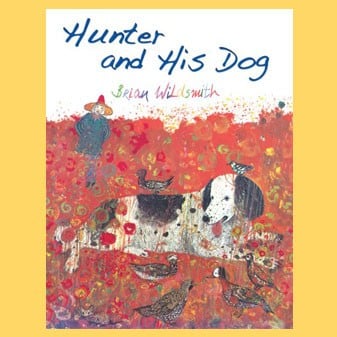 A hunter tries to teach his new dog to hunt ducks, but the dog doesn't want to. Instead, he takes care of injured ducks. When the hunter learns what his pup is doing, he realizes that hunting is wrong. Buy it!
I'm a SUPERVEGAN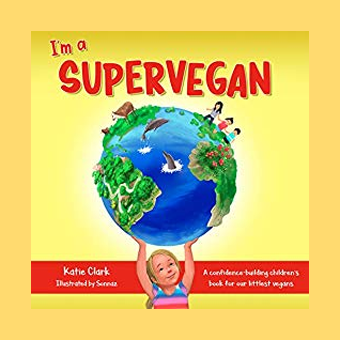 Meet Elizabeth, a compassionate, caring, kind, and brave supervegan. In this story, we learn that sometimes, like Elizabeth, we might be unsure of ourselves, but with the help of our family and friends, we can understand just how awesome we truly are and how super we are to animals by being vegan. Buy it!
Jake and Ava: A Boy and A Fish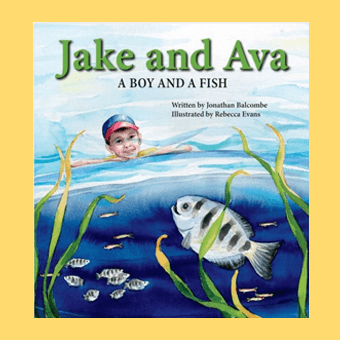 Jake, a boy, goes on his first ever fishing trip with his grandfather while Ava, a fish, is learning how to catch bugs herself. Follow their journey as their paths intersect and Jake learns a very valuable lesson—that fish are living beings who can feel pain! Buy it.
JJ the American Street Dog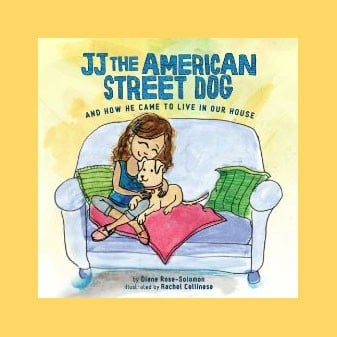 Maya's parents are about to buy her a dog when her uncle gives her one he found on the street. At first, her parents don't want to take in the homeless pup—but they grow to love him and learn that rescuing dogs is a great thing to do. Buy it!
JUNEBUG: NO LIFE TOO SMALL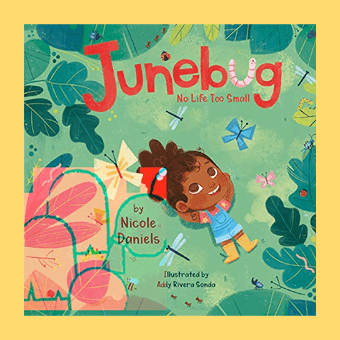 June helps her friends understand why we should be kind to all animals—no matter their size—and that humans can help keep bugs out of harm's way. Buy it!
The Lady and the Spider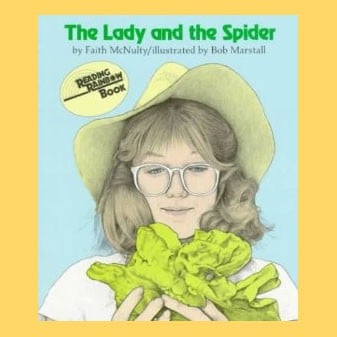 A spider's peaceful life on a lettuce leaf is disturbed when a woman picks it to eat. This story reminds us how much our actions can affect animals' lives and the environment. Buy it!
Lena of Vegitopia and the Mystery of the Missing Animals
Lena of Vegitopia and the Mystery of the Missing Animals is a fairy tale about one brave little girl who stands up for her animal friends and helps rescue them from being eaten. Buy it!
Libby Finds Vegan Sanctuary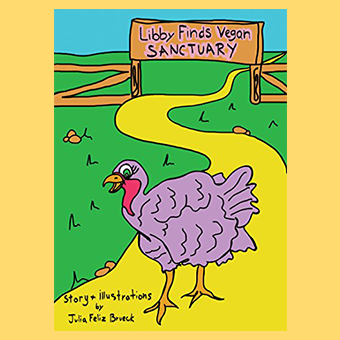 Libby, a turkey who is to be killed for a holiday celebration, finds her way to a sanctuary. There, she's free to spend the rest of her life doing the things she loves—like being with her new friends and enjoying the sunshine. Buy it!
The Littlest Things Give the Loveliest Hugs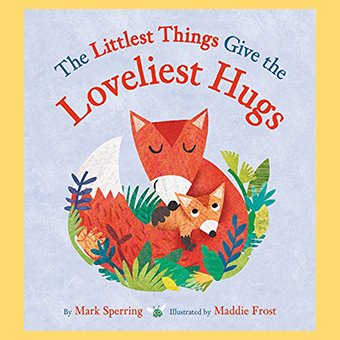 Read about the sweetest bug hug, the cutest fox cuddle, and the gentlest elephant embrace you could ever imagine. Buy it!
Lola Gets a Cat
A little girl named Lola loves cats and wants to adopt one. Follow along as she learns about proper cat care, adopting from a local shelter, and forming a close bond with a new feline companion. Buy it!
Love Me Gently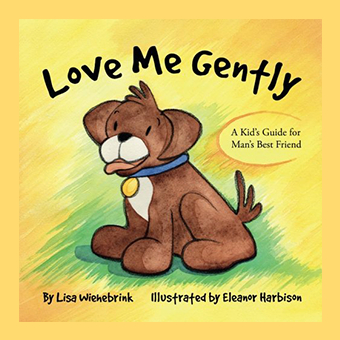 Love Me Gently is a kids' guide to caring for canine companions. Learn about showing animals (especially dogs) love, compassion, and kindness. And read about the real-life problems a boy and his newly adopted puppy have—until they work them out together. Buy it!
The Lucky Tale of Two Dogs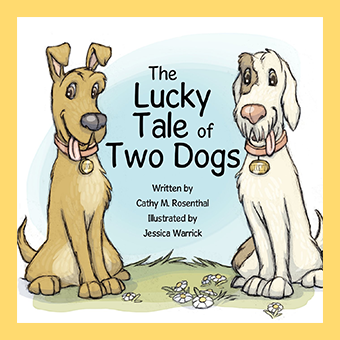 One dog has a happy and safe home, but another one isn't so lucky. Follow these two pups' journeys and find out how their paths cross. Learn about the not-so-lucky lives of unwanted dogs and discover ways to help dogs, such as by adopting them instead of buying them and by keeping them inside (never chained up). Buy it!
The Magic Finger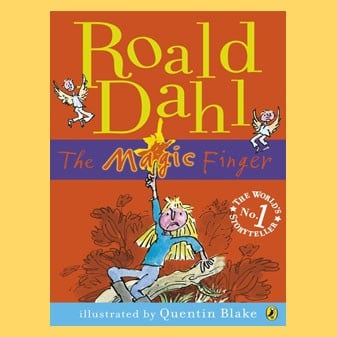 The Gregg family loves to hunt, but the little girl who lives next door thinks hunting is horrible. After she pleads with the Greggs to stop but they refuse, the angry girl uses her magic finger to turn them into birds. Before they know it, they're living in a nest—and their troubles have just begun. Buy it!
MARV & MILLIE: A HEART-TO-HEART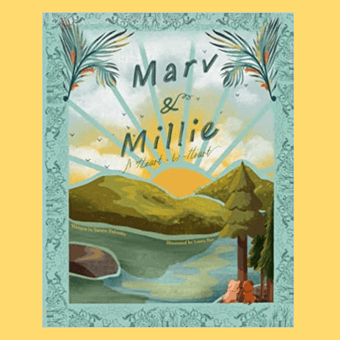 Here's a thought-provoking tale about why most dogs have a much better life than most pigs. Sometimes we're not all treated the same because of what's on the outside, even though we're more similar than we often realize on the inside. Buy it!
Maverick and Me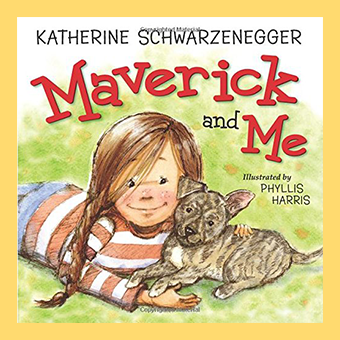 This is the story of an abandoned puppy who's found on the side of the road and taken to a pet supply store. Then, at an adoption event, he meets the new best friend of his dreams: a little girl named Scarlett. Buy it!
MINDFULNESS FOR VEGAN CHILDREN
With this book, kids can learn about and practice mindfulness. It offers some awesome breathing techniques that can help them be more aware of their mind and surroundings—while also encouraging compassion toward all animals and the planet. Buy it!
Mitch Spinach and the Smell of Victory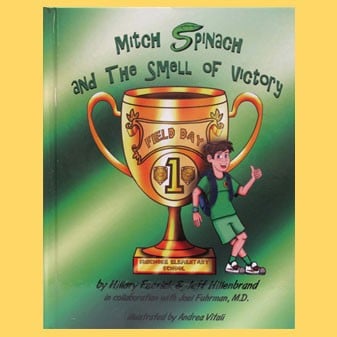 Mitch Spinach receives a message: Help the principal find the missing key to the trophy case. Using his great sense of smell and vegan brainpower, Mitch solves the mystery of the lost key. Buy it!
Mitch Spinach and the Tree House Intruder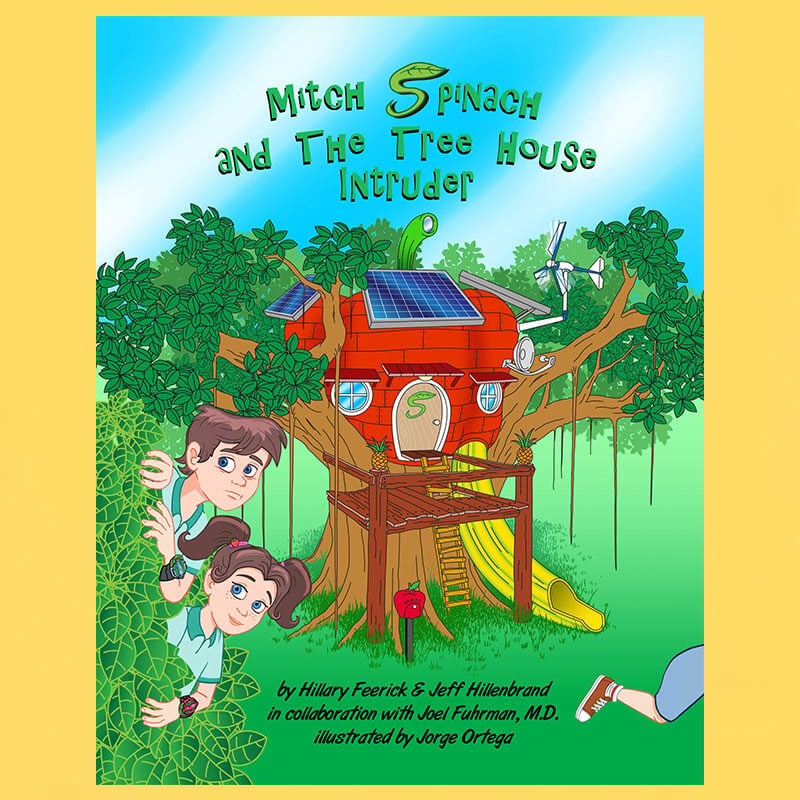 Mitch Spinach gets a message from his sister, Molly: Someone broke into their awesome tree house. Can the kids catch the intruder and help a classmate who's being bullied at the same time? Buy it!
My Name Is Jessie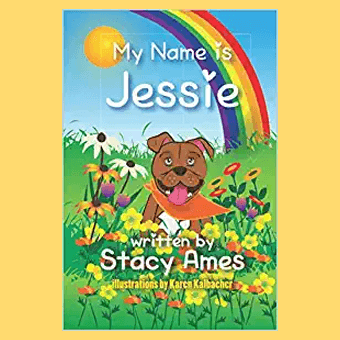 Read about Jessie, a homeless dog in pursuit of her forever home. Witness her perseverance through all the trials of her life and see how she finally finds kindness and safety. Buy it!
N Is for Nutrition: Rhymes by the Alphabet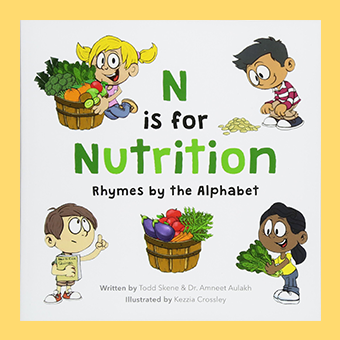 Discover all the healthy nutrients we can get by eating fruits, veggies, nuts, grains, herbs, and more! This rhyming alphabet book definitely has the power to persuade folks to go vegan. Buy it!
NOT A PURSE
While sharing fun facts about animals, Not a Purse imparts to kids that animals are interesting individuals—not purses, hats, or pillows. Buy it!
THE NOT-SO CRAZY COW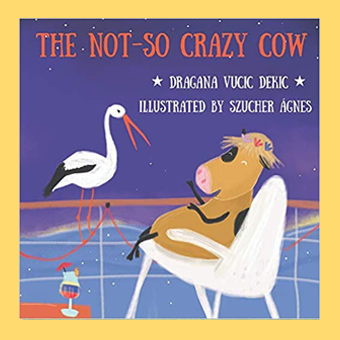 Despite being treated with kindness in her homeland of India, a cow longs to explore the world, so she packs her bags and sails to Europe. When she gets there, she's neither greeted nor shown the same kindness she was shown in India, and she starts to get homesick. This is a funny and rhyming story, but it also presents an important question: Who is crazy here—the cow or the ones who treat her as though her life doesn't matter? Buy it!
Our Farm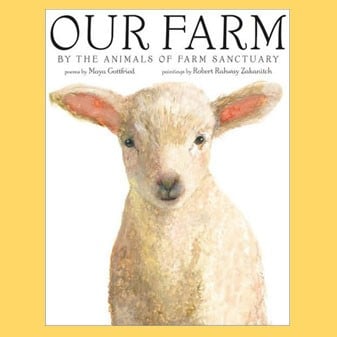 The animals of Farm Sanctuary write poems and rhymes about being rescued from factory farms and given a second chance at life. Buy it!
PEACE: FIVE TALES OF COMPASSION FOR A BETTER WORLD
This book is five stories in one! Each tale has its own lesson to be learned. By the end of the book, you'll have a better understanding of compassion, acceptance, and empathy. Buy it!
Perfect the Pig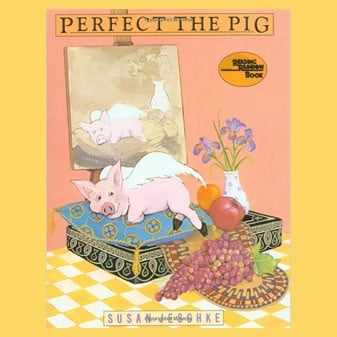 Because Perfect the Pig can fly, he's kidnapped by a greedy entertainer, and his friend Olive must rescue him. Buy it!
Plants Feed Me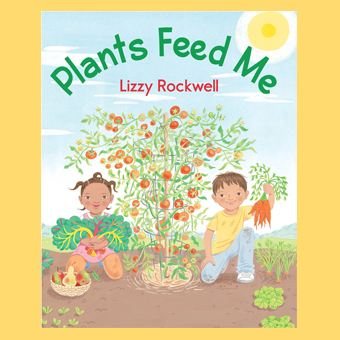 In this book, you'll find information about planting fruits, vegetables, and grains in a garden and what parts of the plants you can eat. Through its informative text and beautiful illustrations, this book shows how everyone can eat vegan. Buy it!
Raju: the Elephant Who Cried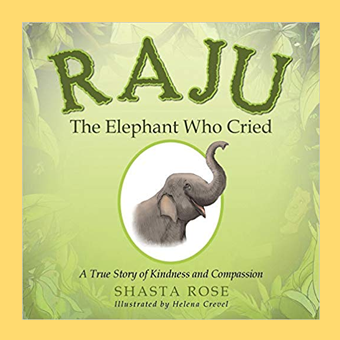 Kids of all ages will enjoy the story of Raju, the elephant who cried tears of joy as he was freed from a lifetime of captivity and hardship. This book shows what some elephants are forced to endure so that humans can use them for entertainment. Raju's story helps us understand why we should have compassion for all animals. Buy it!
Rosebud: A Princess … Finally!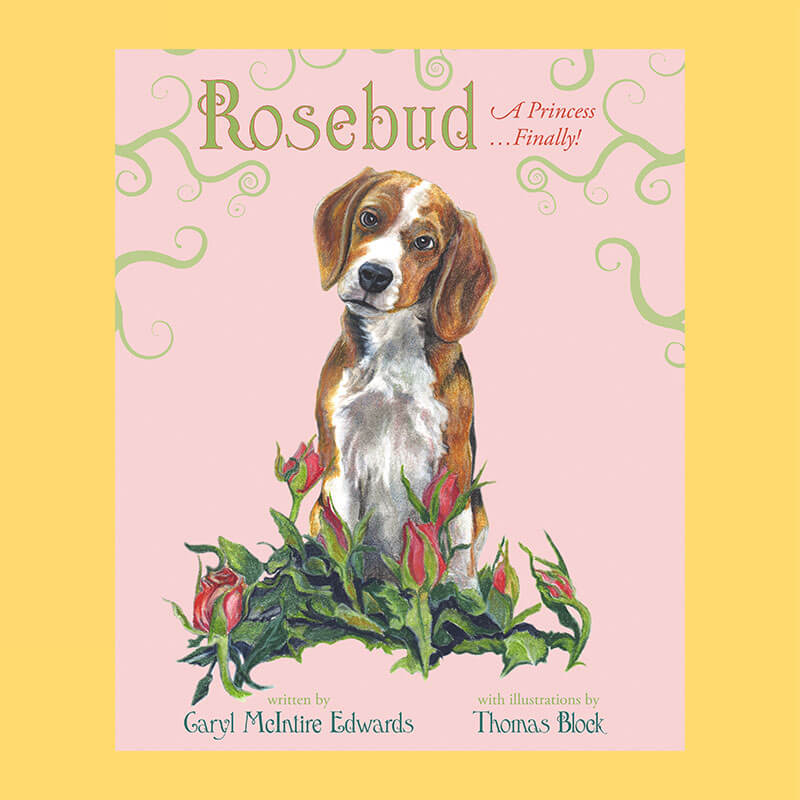 This is the story of an abandoned dog who must run away from coyotes but who finally finds a loving home. Buy it! 
ROXI THE RESCUE DOG HELPS THE COWS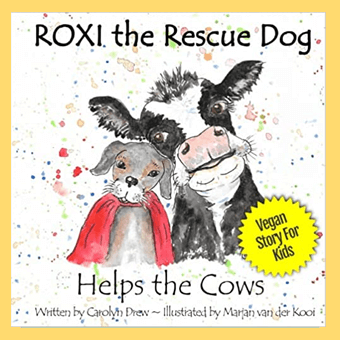 Roxi is a rescued dog with a nice life. She wants all the other animals in the world to have a nice life, too. In this story, she heads down Cow-MOO Road, where she finds happy cows and sad cows. With her superhero powers and her message about kindness, can Roxi save the sad cows used for dairy? Buy it!
Santa's First Vegan Christmas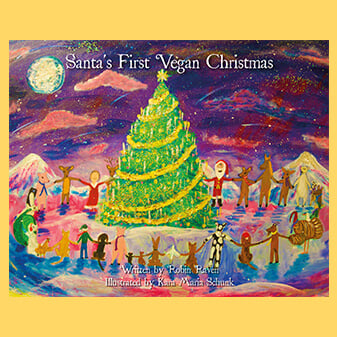 During the holiday season, read a story of love, peace, and compassion. Santa's First Vegan Christmas suggests a different way to celebrate Christmas. It shows that Santa is kind to all animals as well as to all humans. This is the very first vegan children's book about Christmas, and reading it just may become a new family tradition. Buy it, and color in the activity sheet!
The Secret Life of Mitch Spinach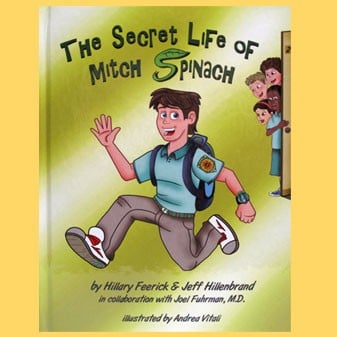 Mitch Spinach seems to be an ordinary boy, but his classmates begin to suspect that something's different about him after they see him drinking mysterious smoothies made of fruits and veggies and reading notes written in code from his lunchbox. The truth is that his smoothies give him superpowers! Buy it!
Sprig the Rescue Pig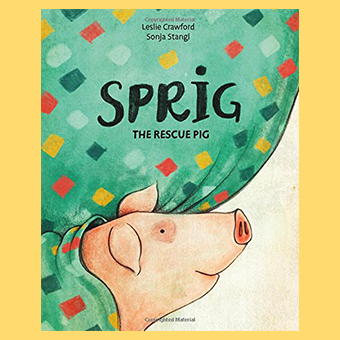 Things aren't looking good for Sprig, who is packed into a truck with lots of other pigs. But with one big leap, he's on an adventure to a place where pigs really shouldn't be and to meet his new best friend, Rory. Both Sprig and Rory realize that pigs deserve to be in a large open space with others of their kind—at a sanctuary, where they can be free and get the care they deserve. Buy it!
Steven the Vegan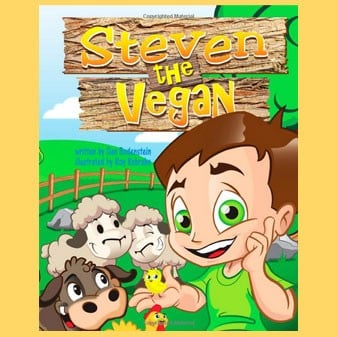 Steven the Vegan helps kids explain to their friends why they eat vegan. On a school field trip to a local farm, Steven tells his friends why he sees animals as friends rather than food and shows them where their food comes from. Buy it!
The Story of Ferdinand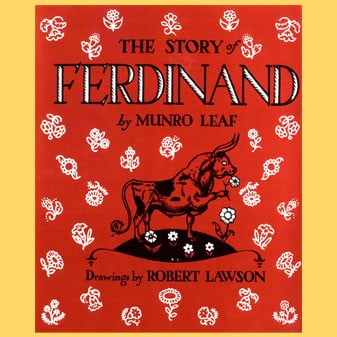 Ferdinand is a peaceful bull who enjoys smelling the flowers and lying under a tree. Unfortunately, men who are looking for the "biggest, fattest, meanest bull" for the bullfights in Madrid think he's exactly the one they want after they see him get upset about being stung by a bee! Buy it!
The Super Crazy Cat Dance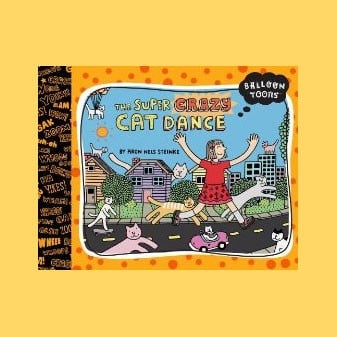 In this fun tale, cats of all shapes, sizes, and colors fill a little girl's world and inspire her to create a crazy dance. Buy it!
The Super Duper Dog Park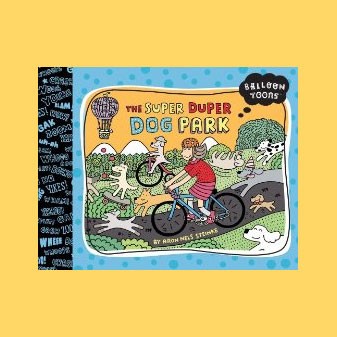 Welcome to the Super Duper Dog Park, an awesome amusement park where dogs get to ride bikes, fly kites, and enjoy an unforgettable day. Buy it!
That's Not My Momma's Milk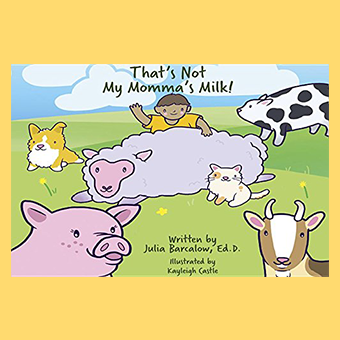 Meet all different types of animal moms and their babies and learn why each mom's milk is for her own baby—not for humans. Buy it!
That's Why We Don't Eat Animals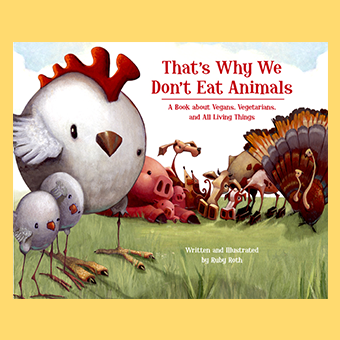 This books shows how animals live in the wild compared to how those raised for food are treated on factory farms—helping you understand why eating animals is wrong. It also shows how to live without using animals and raises issues for you and your parents to discuss together. Buy it!
This Is Me (Officer's Pig Tales)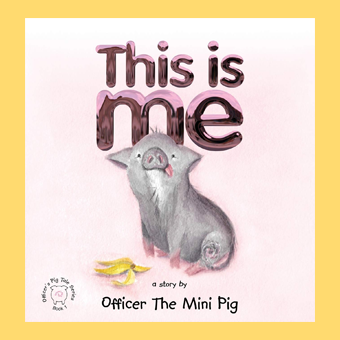 This story is about an outcast piglet who leaves the farm where he lives to find his real home—a place where he really belongs. He travels along a river, into a jungle, and across the ocean until he lands on the beaches of Florida. After exploring all that Florida has to offer on land, he decides to go for a swim in the ocean and is saved by someone he believes is a mermaid … but is she? Buy it!
The Three Little Pigs Save the Earth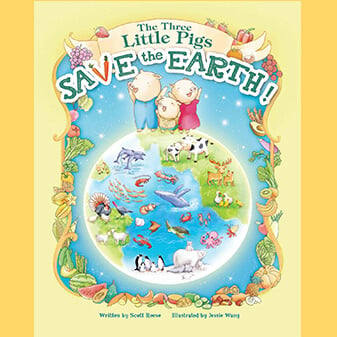 When a hungry wolf knocks on three happy vegan pigs' door one day, a series of surprising events results in a peaceful vegan Earth. Buy it!
Toro: A Calf's Tale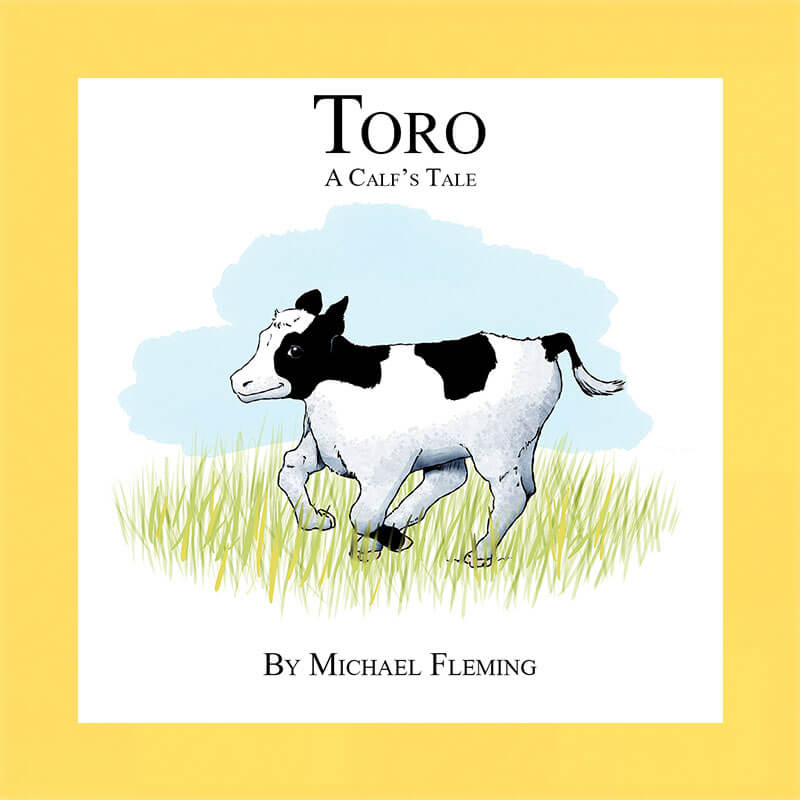 Toro is a bull calf who makes an amazing escape from a factory farm. His story shows us that animals in the dairy industry live short and miserable lives. Buy it!
The True Adventures of Esther the Wonder Pig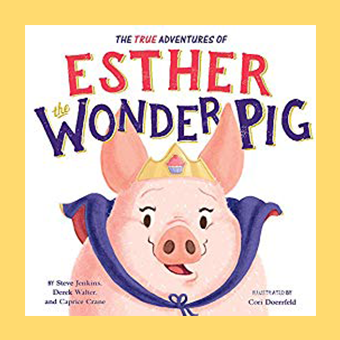 When Steve and Derek adopted a mini-pig named Esther, they had no idea that she would turn out to be not so small, after all. When her new family saw just how big and wonderful she really was, they fell in love—and their lives changed forever. Follow the family on this real-life adventure! Buy it!
A Turkey for Thanksgiving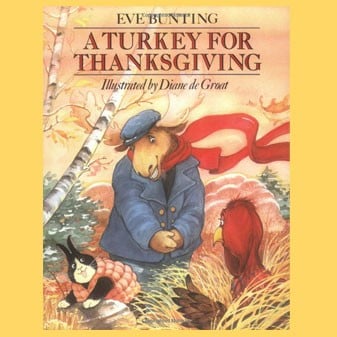 Mr. and Mrs. Moose invite their animal friends for Thanksgiving, but Turkey doesn't show up. What the terrified bird doesn't realize is that they want him as their guest, not their dinner! He hides out, and his friends try to find him. Buy it!
'Twas the Night Before Thanksgiving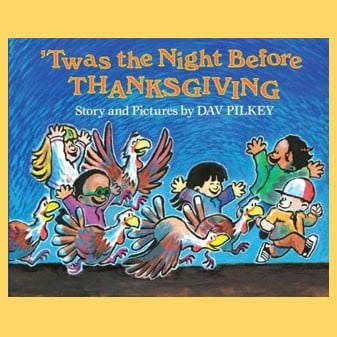 The day before Thanksgiving, eight boys and girls take a field trip to a turkey farm and are shocked to find out that Farmer Nuggett plans to kill all the birds for Thanksgiving dinners. Buy it!
AN UNORDINARY LION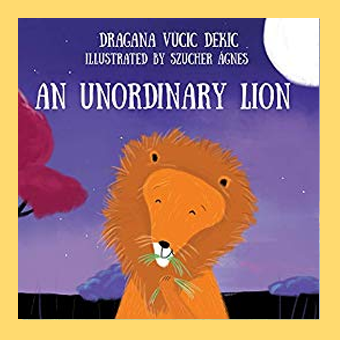 One day, a lion hurts his leg while hunting for prey. While he's lying there helplessly, he starts to look at other animals differently—taking note that many who only eat plants are still large, fast, and strong. Being hurt also helps him reconsider his way of life, and he begins to feel empathy for other living beings—and wants to make a big, compassionate change by going vegan. Buy it!
Valen the Vegan Dinosaur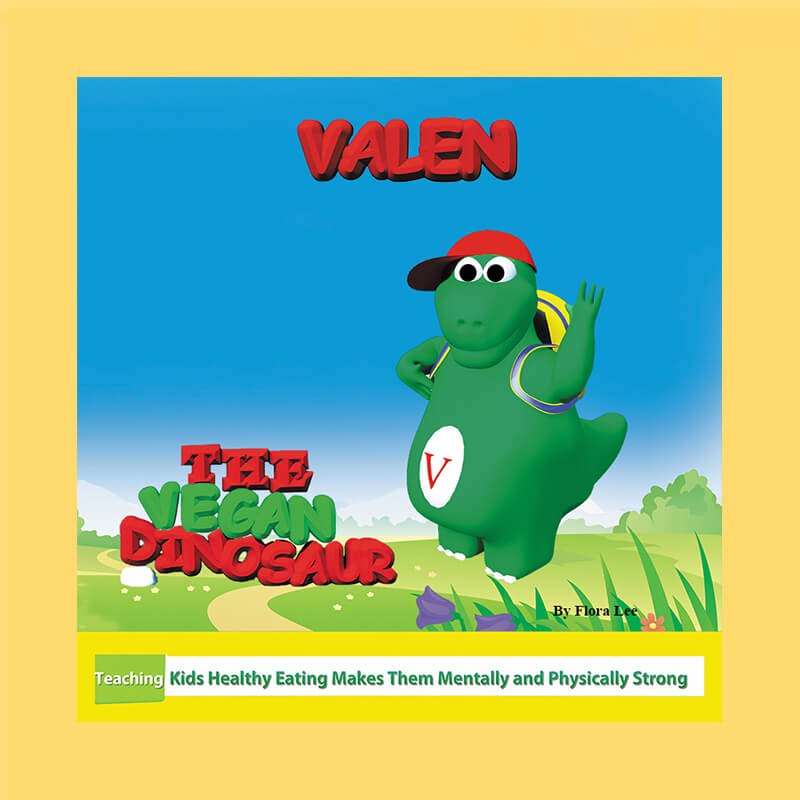 Valen is hungry, but he doesn't know what to eat. Follow along as he asks all his plant-eating friends what they munch on—and finds out that he's a vegan dinosaur! Buy it here or en español.
Vegan Is Love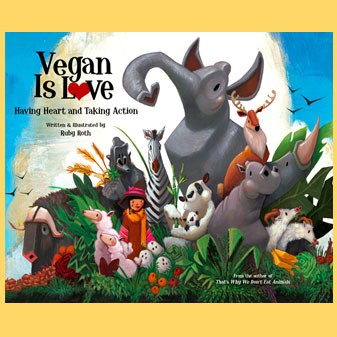 This book explains that being vegan means being kind and taking action for animals, including those used for experiments, entertainment, and food. Buy it!
Vegan Lunch Box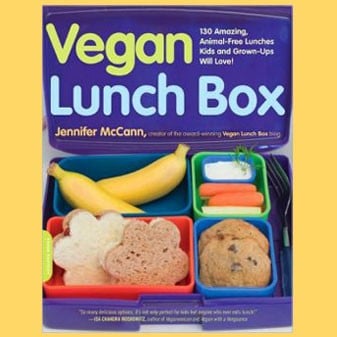 With 130 vegan recipes and food suggestions, this is the perfect book to inspire you and your family to create great vegan lunches. Buy it!
Vegan Lunch Box Around the World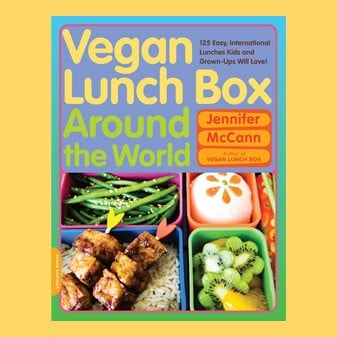 This book features 125 vegan recipes and foods from around the world, providing ideas for even the pickiest eaters, and includes nutritional and allergy information. Buy it!
THE VEGAN VAMPIRE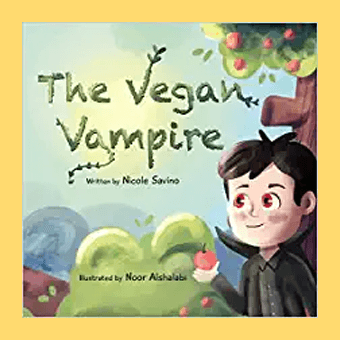 One little vampire realizes that his food is someone, not something. He challenges what is considered normal for vampires in order to help those who may be killed for food. Will he find a way for vampires to coexist with the living? Buy it!
Victor's Picnic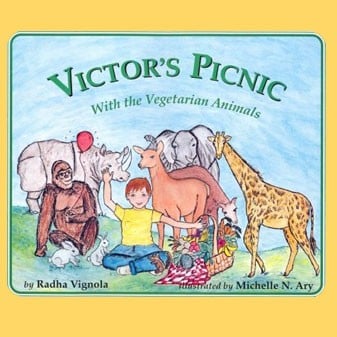 When plant-eating animals share their food with Victor at a picnic, he enjoys lots of snacks and learns what to eat in order to stay healthy. Buy it!
Victor, the Vegetarian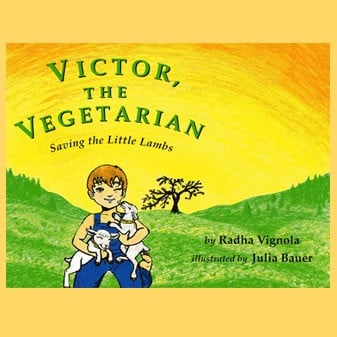 Victor wants to save his two lambs after he finds out that his father wants to eat them, so he runs away with them into the woods. Buy it! 
VIVI THE SUPERVEGAN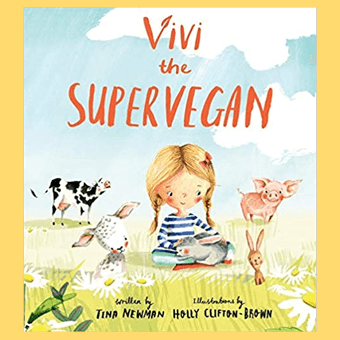 Vivi isn't like most other kids her age—she has superpowers! And the best part is that she has them because of her compassionate vegan lifestyle. She doesn't let them go to waste, either. Follow Vivi on her adventures as she saves animals. Buy it!
VIVI AND THE PLANET PROTECTOR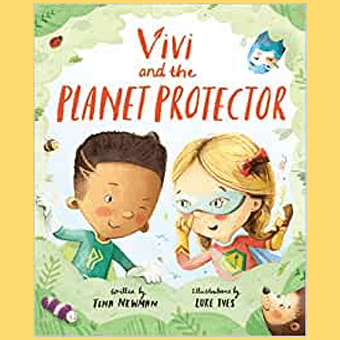 Vivi the Supervegan is back at it again, and this time she has a partner—Planet Protector. Follow this unstoppable duo as they help protect the planet and animals. Buy it!
The Way I Love You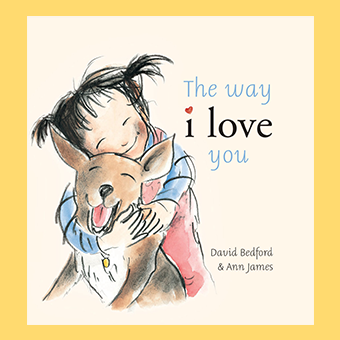 Enjoy the story of a girl and her dog in this adorable and super-easy read. Buy it!
WE ALL LOVE: A BOOK FOR COMPASSIONATE LITTLE VEGANS AND VEGETARIANS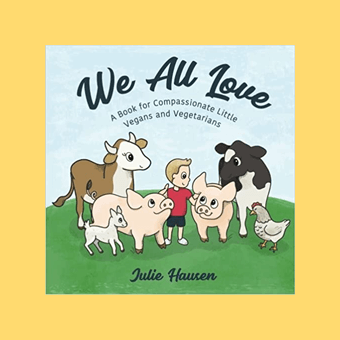 This great book for young readers shows how similar we are to others and how we can choose to live compassionately by going vegan. Buy it!
WE ARE THE OCEAN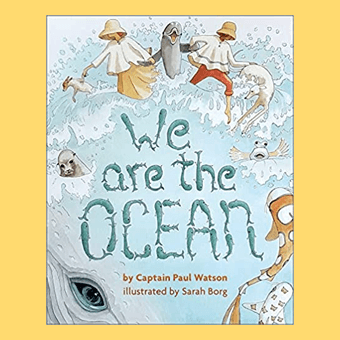 Water is inside all of us and all around us. Reading this book is a great way to learn about the ocean and understand our connection to water. Buy it!
WHAT IS A VEGAN?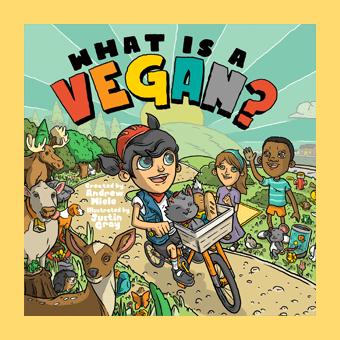 This book explains to the reader what it means to be a vegan—from the foods we eat to the clothes we wear. Learn all the ways that going vegan helps animals. Buy it!
What's in Your Lunch Box?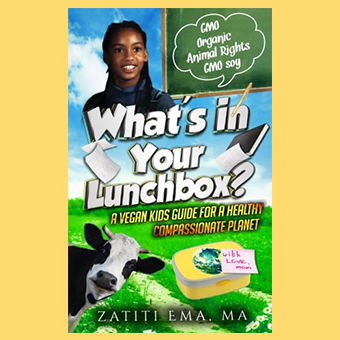 Sheeba encourages her friends at school to eat healthy, plant-based food, and she gets some help from a cosmic cow who explains how animals used for food suffer. The two teach the children to garden and to have compassion for animals everywhere. Buy it!
WHAT KIND OF KIND?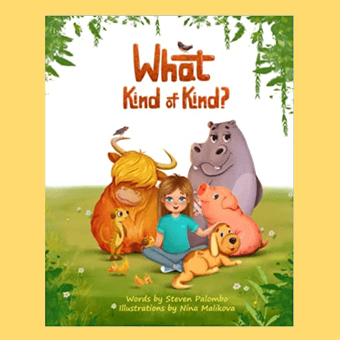 This entertaining book is a fun way to learn about a variety of animals and how we can be kind to them. Sure, we may not meet them all in real life, but we can still appreciate them. Buy it!
WHAT VEGAN KIDS EAT!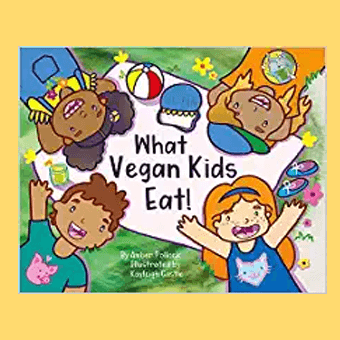 This super-colorful book is about all the delicious foods that vegan kids eat. See the many options that vegans can enjoy on holidays and during everyday life. Buy it!
When Anju Loved Being an Elephant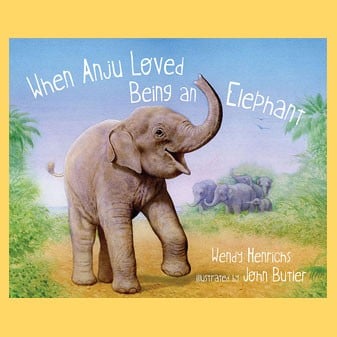 Growing up in the forest with her family on the Indonesian island of Sumatra, Anju loved being an elephant. That all changed when she was taken and sold to an American circus that forced her to spend years traveling around the country to entertain crowds. Buy it!
WHERE DOES DINNER COME FROM?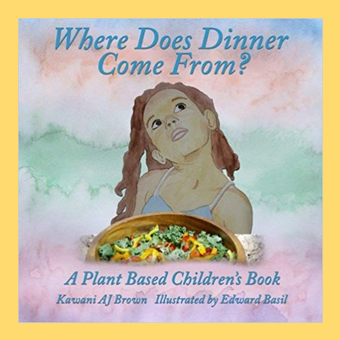 This book features a little girl who's curious about where the food in her vegan meal comes from. Follow every ingredient from the table back to the farm, plant, or tree where it originated. And if her dinner looks super-yummy, use the recipes in the back of the book to make the same meal with your fam. Buy it!
Who Cares About Animal Rights?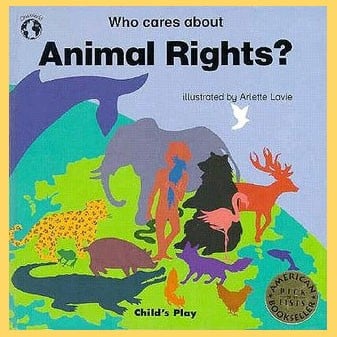 Want to learn more about the animal rights movement? This book explains why using animals for food, experiments, and other purposes is wrong. Buy it!
Whose Coat?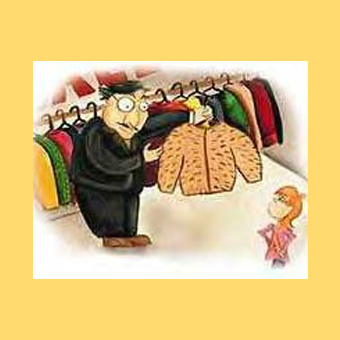 Aurora wants to buy a coat, but she won't buy one after the store clerk tells her that the fur the coats are made of came from animals. The clerk says that the animals don't need their fur anymore. Aurora goes into the forest to find out if this is true and ends up teaching the clerk a lesson in animal rights. Buy it!
The Wild Reveler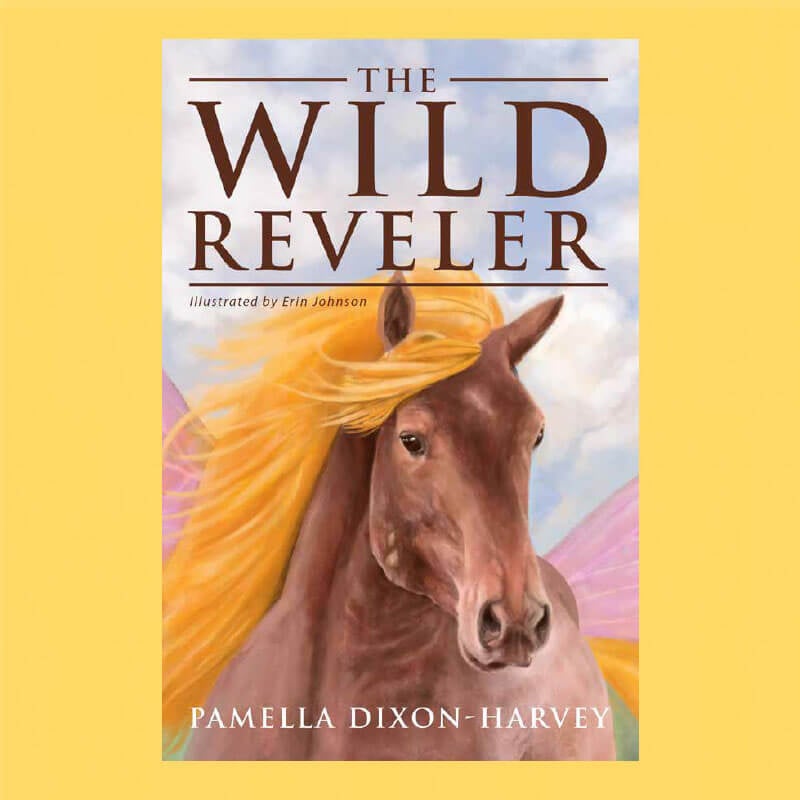 This book is for anyone who's interested in wild horses. It's about a herd of mustangs rescued by the Wild Reveler—and their fight to survive. Wild horses are a part of our history and culture, so they're a part of who we are. Buy it!