Tell Waccatee Zoo How Thankful You'll Be if the Animals Go to a Sanctuary
Waccatee Zoological Farm in Myrtle Beach, South Carolina, has a history of not providing animals with good veterinary care. Lila, a tiger living in a cage there, has a medical condition that has caused her to go almost completely bald. Her condition keeps getting worse. She needs to be sent to live in a true sanctuary, where she can get treatment for it and other expert care.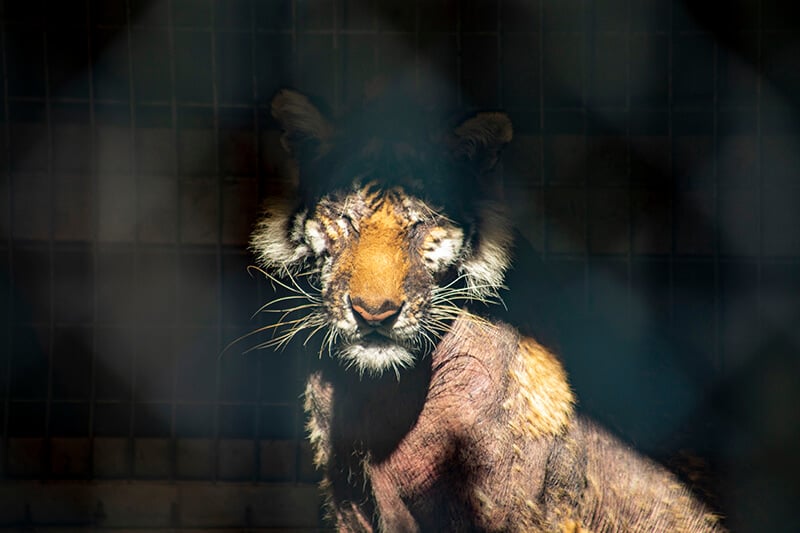 Tigers are amazing animals! While we use GPS or maps to get around, tigers have a great memory and use their sense of direction to travel throughout their territory. They can cross a river 5 miles wide in a matter of minutes, and they enjoy spending hours in water up to their neck on a hot day. All Lila is able to do at Waccatee Zoo is pace back and forth in a small, empty cage.
Let Waccatee Zoo know that you would be thankful if they did the right thing and released the animals who are forced to live there—like Lila the tiger and Lil Trix the baboon—to a true sanctuary, by sending them a handmade Thanksgiving card!
Grab a piece of paper and your favorite colored markers or pencils, and follow these five easy steps to speak up for the animals at Waccatee Zoo:

Fold your piece of paper in half.
Draw and color Lila the tiger on the front of the card.
Write a message to Waccatee Zoo asking them to release all the animals to a true sanctuary. You can use our message below or write your own.
Dear Waccatee Zoo, Animals like Lila the tiger and Lil Trix the baboon deserve to live in a place where they can explore, play, and get the veterinary care they deserve. I would be so thankful if you did the right thing and sent them to a true sanctuary. Sincerely, [Your name]
Address the envelope to Waccatee Zoological Farm, 8500 Enterprise Rd., Myrtle Beach, SC 29588.
Ask a grown-up to help you mail the card.
Take a picture of your card and send it to us at [email protected] to get a free copy of A Tiger's Life—a cool animal rights comic book about tigers.