The Delicious World of Vegan Ice Cream
If fear of giving up ice cream is YOUR reason for not going vegan, then listen up—this one's for you!
Many kids and their parents don't realize that vegan ice cream exists, but thankfully, IT DOES! And the best part (besides the taste, of course) is that no animals were harmed in making it, which is great news for mama cows and their babies.
The super-tasty, nondairy ice creams below can be found at most grocery stores, sooo you might want to start saving up your allowance now … just sayin'. 🙂
Tofutti's premium pints were the FIRST nondairy frozen dessert to be sold to the general public in grocery stores. So basically, the company made it possible for animal lovers everywhere to enjoy delish dairy-free ice cream at home. Their pints come in several flavors, too, including Vanilla Almond Bark, Better Pecan, and Wild Berry Supreme.
desserts 
with cool names like Hooray Hooray and Totally Fudge, so eating these tasty treats is as fun as it is delicious.
The So Delicious brand, which can be found in many grocery stores across the country, offers ice cream made from soy milk, coconut milk, and almond milk.
Soy milk is a common favorite for many people who avoid dairy products. Oh, and it's delicious, too. 🙂

12
, and vitamin D.
Using only organic ingredients, Soy Dream creates yummy ice cream flavors that are perfect for any sweet tooth cravings. It also offers vanilla soy milk ice cream sandwiches (called "Vanilla Lil' Dreamers").

Rice Dream
 offers a variety of pints, including Butter Pecan, Chocolate Fudge Brownie, and Cookies n' Dream. Rice milk can also be a great way to get calcium, vitamin B
12
, and vitamin D
2
, too!
♥
If coconut milk is YOUR fave, Coconut Bliss is the brand for you! It ALSO offers scrumptious ice cream bars that even your most dairy-loving friend will go crazy for.
You can find sorbet (which is, of course, vegan!) at nearly ANY frozen yogurt or ice cream joint. At stores like TCBY and Tutti Frutti, you can even enjoy soy-, almond-, and coconut-based vegan yogurt.
6. DIY Ice Cream
GOOD NEWS! You can create your own vegan ice cream right at home. Just ask your parents to help you blend together one frozen banana, one tablespoonful of peanut butter, and one teaspoonful of cocoa powder.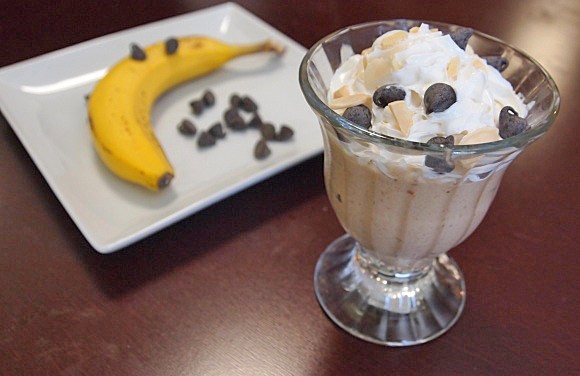 Now that you know all about the magical world of vegan ice cream, be sure to share it with your friends, too. The more people who discover how delicious dairy-free ice cream is, the better!