Holiday Roundup: The Perfect Animal-Friendly Stocking Stuffers for Kids!
If you're searching for the perfect animal-friendly stocking stuffers for the compassionate kids in your life, look no further than this roundup! Check out these adorable (and affordable) ideas that will remind your loved ones how easy it is to make kind choices all year long.
Small Plushies
Small animal plushies are classic stocking stuffers, and you can find them nearly anywhere—like our stuffed Ratty plushie in our online shop. Plus, they're easy to personalize just by choosing your kid's favorite animal. Be sure to make a bigger impact by including a note about ways your family can help the species—whether through volunteering, raising awareness, or donating.
LUSH Products
Make bath time instantly more fun with a bath bomb! LUSH's options can turn the water any color you can dream of (even rainbow, if you can't decide), and they smell fabulous. The store has all sorts of cruelty-free and vegan items, guaranteeing that a quick stop there will help you bulk up those stockings considerably. (Just be careful when making your purchases, as some items aren't vegan.)
Lip Balm and Lotion
Winter weather can really dry you out. Slip some vegan lip balm and hand lotion into the kids' stockings for some much-needed relief from chapped lips and cracked skin. There are tons of great cruelty-free brands (ones that don't use beeswax or test on animals).
Mug With Vegan Hot Chocolate
A mug of dairy-free hot chocolate feels so comforting after an afternoon of walkin' in a winter wonderland. For a cute gift, select a fun mug, place a packet of vegan hot cocoa and a candy cane inside, and tie a ribbon around it.
Note: All hot chocolate flavors from Archer Farms at Target except the Sea Salt Caramel one are vegan. Don't miss out!
Games
"Go Fish"? No way! How about "Go Trash-Fish" with this new card game that helps kids learn why they should fish for trash, not animals. Order it here.
Candy
Can you even call it a Christmas stocking if there's no candy in it? We're obsessed with UnReal's Dark Chocolate Peanut Gems. They're just like M&M's—but vegan! Does your child have a peanut allergy? Don't worry—there are tons of vegan candy options to fit any preference.
'Friends, Not Food' Apron
Have a young vegan chef? Give your little one this adorable animal-friendly apron. It's perfect for pretend cooking or whipping up a batch of yummy vegan cookies. Order it here.
Nail Polish
Nail polish is a perfect stocking stuffer because it's small enough to leave room for tons of other goodies. Drugstores carry some great cruelty-free brands in bright colors that your kids will love.
'Love Me, Don't Eat Me' Lunch Bag
Our favorite school subject? Lunch! These adorable lunch bags make showing compassion so cute that other kids are sure to tell their parents that they'd rather love animals than eat them, too.
Books
Excite and educate the kiddos with a good old-fashioned book in their stocking. From Santa's First Vegan Christmas to The True Adventures of Esther the Wonder Pig, there's not a story on our compassionate book list that the whole family won't love reading together.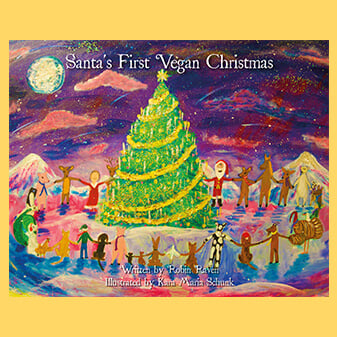 PETA Kids Stickers
The most budget-friendly item on our list (since you can't get much more affordable than free) is our PETA Kids sticker sheet. These stickers feature animal rights messages that kids will want to put on everything—from school folders to themselves. Request some here.
Gifts to Avoid
Don't end up on the "naughty" list by accidentally buying something harmful to animals. Be sure to steer clear of these stocking stuffer no-nos, and always remember that live animals are not Christmas presents.